6th January, 2000


As promised I drove to Myrtleville on Christmas morning to talk to and photograph the brave men and women, boys and girls who swam for the children's Leukaemia ward Mercy Hospital Charity. It was a beautiful day. But it was bitterly cold. There was a huge crowd there and the organisers supplied hot whiskies, and soup. I'm even told real Russian Vodka was passed around, and if that doesn't warm you up then you're dead! Well done to all. I'm sure the organisers will let me know how much they raised as soon as they get in all the sponsorship cards. I'll pass on the good news. Again well done to all concerned.
I finally got my letter from the National Car Testing Service Ltd. the letter states that the national Car Test is being introduced to enhance road safety and reduce harmful emissions. They wish to know if my car is safe enough to be on the road? Having driven around Douglas over the Christmas period, I can only think of one answer, No! My car is not safe on the roads of Douglas, as a matter of fact no car is safe on the roads of Douglas. The potholes are as plentiful as Bibles at a Tribunal. As regards the harmful emissions, that would the steam shooting out from my ears every time I hit a pothole, and the language which turns the air blue every time I hit another one.
A few weeks ago I got a present of a new book entitled "Life Journeys"; I know a lot of people who live in the Douglas area originally came from the Northside. This book is a series of interviews and peoples memories of their days growing up in the Northside. It's a great read. My wife spent last night reading it and she loved it, you don't have to be from the Northside to appreciate it, being from Cork would be enough. The full title is " Life Journeys - Living Folklore in Ireland Today" (published by The Northside Folklore Project).
There was a very interesting TV programme shown on UTV on Monday night. A consumer show called 'We Can Work it Out'. One learns something new every day. British motorists are coming to Ireland to buy new cars. On a Toyota Avensis Turbo Diesel the saving is £3,000. On a Renault £4,600 and a golf £2,900. In our country if one wished to buy a car in England and bring it home to Ireland. The Revenue Dept. would look for a sum almost equal to the savings by the purchaser. But in Britain the state only takes a few pounds from the purchaser who buys a car in Ireland. Did we even think we'd see the day when the British would be coming to Ireland to buy cars?
I was more than surprised by the facts in Niall O'Sullivan's article on battered men, which appears elsewhere in the Weekly. I can't believe that more men are battered by women than the other way around. But Niall assures me that the figures are correct. It's a sad reflection on our society that anybody, man or woman has to put up with abuse. I did an interview with a woman a few months ago who suffered mental and physical abuse for years and it made harrowing reading. I wonder are there any men out there with stories to tell of a similar situation? If there are, give us a call in confidence, and we'll tell your story.
Well the Millennium has come and gone and the most difficult part of the whole thing was trying to spell the bloody word, here it is for the last time MILLENNIUM. Jumbo jets didn't fall out of the sky. Our computers didn't crash. The only crash was a brass bedside lamp wielded by Oliva Harrison on Michael Abram's head as he made an unauthorised house call on George Harrison, "Something in the way she moved and whacked him like no other".
Finally, a happy New Year to all our readers. Keep those cards, letters, and e-mails coming.

Bye for now,
Michael O'Hanlon.

---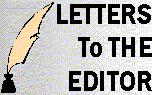 ---