13th January, 2000


Last Thursday night was Women's Little Christmas, and what better way to celebrate it than join 300 women at a Dickie Rock concert in Carrigaline Court Hotel, which I did. Dickie is still as good as ever, the voice was in great shape and the moment he appeared on stage the girls were on the floor, dancing the night away. I must compliment the hotel on their staff, especially the security, who were pleasant and helpful to everybody. I spoke to Connie Lynch, Dickie's manager, who told me that Women's Little Christmas is exclusive to Cork, and it is not celebrated in any other county in Ireland. I'm not talking about the religious aspect of the feast day, which is a national Church holiday, but as a social night Women's Christmas is only celebrated here in Cork.
Speaking of Carrigaline, a reader from Grange told me that she bought her child's Communion dress from 'Little Rascals' boutique in Carrigaline and saved £60 by driving down. Give Siobhán a call at 373961. Little Rascals is situated opposite the Credit Union in Carrigaline.
Yesterday I spoke to Brian Healy of Douglas Motors. Eventually the conversation came around to the NCT Car Test. Brian made a good point. We know that the company NCT are Swedish, so do their rules apply to the Swedish roads? If they do then this test is about as useful as a bus stop in Frankfield!! We read that 40,000 cars have to be tested, at £35 per car that works out at £14,000,000, with a failure rate of 80% that means that 320,000 cars have to be re-tested at £20, which brings in another £6,400,000. A grand total of approximately £20,000,000. Add another few bob and one would have the price of a Gulfstream jet. God knows, we can't seem to manage with only one.
A reader from Galway's Lane, Douglas West (opposite Village Hair Studio) telephoned the office today with a plea. Please don't park your car in Grovener Mews, Elm Grove or Galway's Lane unless you are living or visiting there. Residents who go out shopping in their cars return to find that someone has parked outside their house. A far more serious and dangerous aspect to this ongoing problem is parking on both sides of Galway's Lane, which would make it impossible for a fire tender to get through, so motorists, a little consideration for the residents would be much appreciated.
Last week I mentioned the book about life in the Northside entitled, "Life's Journey". Mark from Douglas Books told me that they have it in stock.
The joke of the week had to be George Best offering advice to David Beckham on how to handle fame!!
This morning (Tuesday) I listened to the Marian Finnucane Radio Show. The show was about discrimination in golf clubs, based on gender. Women cannot become full members, women have no vote (Emily Pankhurst where are you now?). Ladies day (the first Tuesday of the month ... or is that children's allowance day?) is the last bastion of male dominance under siege? "Little men with little balls, the girls are breaking down the walls, the boys are scared, they're in a rut, go on Mary, sink that putt".
Local councillor Deirdre Forde made some valid points in her press release to us this week. Douglas should have its own council office. I know the council bought a house in the Rochestown area years ago for this purpose, but no sign of an opening day. Last year I asked whether developers should be let walk away with millions while they destroyed the roads into the developments, now Deirdre is asking the same question. Take a spin down to Clonakilty or Kinsale anyday and check out the roads. What have they got that we haven't got? Answer: UDC (Urban Distract Council), a council made up of local, and I mean local people, not from Ballincollig, Crosshaven, etc... Only then will we have some control over our destiny and the future of Douglas.
Another reader suggested that the council buy the site for sale next to Douglas Court and turn it into a plaza. I suggested that last year for the site next to McDonalds which is now nearing completion with retail units and apartments. But the chances of the council buying it for the people of Douglas? About the same as a bus service to Frankfield.
Finally, get well soon to everybody who is suffering from that terrible 'flu, and a special get well to Peter Barry who is (or has) undergoing/undergone heart surgery.

Bye for now,
Michael O'Hanlon.

---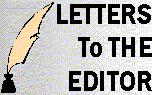 ---