17th June 1999

---
Well folks, the local elections are over. And the good news is that we now have two new local County Councillors to represent us. They are Deirdre Forde and Peter Kelly. We in Douglas Weekly wish them well. On a related matter, most of you know that Councillors and TDs hold clinics in the Douglas area. I've never been happy with the situation where some clinics are held in a public house. Local TD and now new member of Cork Corporation Deirdre Clune has an office in East Douglas next to O'Donovans Off Licence. However, holding a clinic in a lounge bar is a bit demeaning.
Only once did I attend a clinic in a pub. I felt it lacked privacy and when constituents walked in, people at the bar looked over to see who was coming in. It's like something from a rural scene in the fifties, where the clinics were held in a "snug" of the local pub. It's time to treat people with a bit of respect and dignity, and get rid of that word "clinic". We associate that with medical matters. I'm sure we all know people, especially women, who will not walk into a pub alone, and surely the cost of renting a room in Douglas once a week would not cost a lot.
I remember Peter Barry used to hold his "clinics" in Douglas Community Association Hall. What's wrong with that?
A few weeks before the election I received a telephone call from Cork North Central Independent Councillor Con O'Leary. The week before Labour leader Ruairi Quinn had stated that voters should not vote for Independents as they had nothing to offer the public. I wrote in the Seen, Read & Heard column that Con had replied to Mr. Quinn's statement in a very forthright manner which I agreed with, and complimented him on the piece.
A local reader sent a copy of the Weekly on to Con, and he rang to thank me and to wish me well in the election. He felt that he was up against the "big guns" this time and that he had a tough fight on his hands. But good news for Con. He was elected on the 9th count. Well done Con.
Congratulations also to another Douglas resident, Terry Shannon, who topped the poll in the Cork South East region. Terry will represent people in the City area of Douglas along with Deirdre Clune, Jim Corr and Ballinlough's Donal Counihan.
I suppose the big news of the week is the planned building of over 600 houses in the Maryborough Hill area. With an estate of this size comes about a thousand extra cars. The question is, can Douglas handle this potentially huge increase in traffic? And with 600 houses comes 600 families. So it may be time to plan for a primary school for the Rochestown/ Maryborough area. And finally, I hope the builders make provision for the children of this huge estate: essentially, a large green area would have to be a priority. I don't think we've heard the last of this development. Your views on the subject would be appreciated.
On a personal note I would like to thank all the people who gave me the number one votes, almost 600 of you. Because I was a one-man political operation it was impossible for me to call to meet you on your doorstep. However, walking through Douglas almost every day I was always wished well in my election bid.
As you now know I was unsuccesful, but let me tell you that the Douglas Weekly will continue to highlight local issues that concern us all.
New local councillor Peter Kelly has just called to the office and I will be doing an interview with Pater next week. Over the next few weeks he will be organising a constituency office, and through the Weekly we will let you have details when he has them sorted out. He can be contacted at 893199.
Bye for now,
Michael O'Hanlon.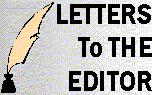 John L Says Thanks
Dear Supoporters,
I wish to express my sincere gratitude for the huge support which the people of Douglas and surrounding areas gave to me in the local elections.
Firstly I want to thank my family for the loyalty and huge effort which they gave to me. Secondly I want to thank my campaign team headed by Michael (Doc) Martin from Douglas (not the Minister for Education). Thirdly I want to thank my sincere friend Batt O'Keeffe TD for the enormous effort which he made to get me elected for Douglas. Many thanks also to the staff of Douglas Weekly for their help with my advertising campaign.
I also wish to express my regret that my fellow candidate John Whelton did not get elected. However he has nothing to be ashamed of. He ran an honourable and ethical campaign of which he can be proud.
Due to unprecedented growth over the last number of years, Douglas has many problems (traffic, infrastructure, social, educational, etc.) These problems will probably continue to increase as the growth continues. I had hoped to be able to contribute, in my own small way, to help solve some of these problems. However a number of unprecedented circumstances contrived to prevent this.
I finally wish to say that in the future, as in the past, if I can be of any help, do contact me.
Yours sincerely,
John L O'Sullivan, 18 Inchvale Park, Shamrock Lawn, Douglas.
---

Back to Home Page