4th May, 2000


Last week a member of a road bowling club asked me to take a trip up to Monastery Road to view some of the experts in action. So last Friday night I duly obliged. For the first time ever I lofted a bowl, it's not as easy as it looks. It's about angels and bends in the roads and there's a great amount of skill in it. There were about 50 people there including a few women and the banter and the craic was ongoing. I am sure most of you readers have come across a bowling competition when you're driving and accordingly, slow down. On Friday night a jeep came down the hill, saw the crowd and he seem to accelerate and roared through them, probably trying to impress his female companion, a dangerous thing to do. If you do come across a bowling match, take your time and respect the people who are carrying on this age old sport. Finally on the rematch between Pat Martin and Walter Clarke, Pat told me that the match will be on when the "Hall comes up with the Money" I'll be there for the rematch.
Listening to a radio discussion on the Planning Controversy and the councillors who allegedly took money from frank Dunlop. On the programme a Government Minister asked the question "How do we stop developers who wish to financially support the Democratic Process" to which I say, if you believe that then there's no hope for us!! One of the new recommendations is that land rezoning and planning decisions should be decided by council officials and not elected councillors. Remember George Redmond? At the end of the day it seems everybody has a price and it must be hard to refuse £50,000, just to put an X on a paper. Pearse, Connolly, Collins if you could only see what you died for.
A reader asked me if I knew anything about the planned school in Frankfield, she lives there and she told me there's not a sign of anything happening. We rang Councillor Peter Kelly who told us that it is going ahead. The buildings will be pre-fab and they should be open in time for the children when they begin school in September. We will keep you informed as thing's develop.
I met a reader yesterday who told me she met a Knight of the Road on Sunday. The water pump in her car burst, you know the scene, red light comes on, steam rises from under the bonnet. A man from Shamrock Lawn (What else would you expect from Shamrock Lawn?) in a red V.W Polo saw her predicament, went home, got some tape and water, fixed the leak, topped up the radiator and sent her on her way home. So well done to that gentleman (and I mean Gentleman) who came to the rescue of a damsel in distress, you definitely get this women's "stamp of approval"
I'm sick of Mr Bean on the television. The first time was very funny, but talk about trying to "Flog a dead Horse" bring back Fawlty Towers, it's due a re-run.
The beauty of democracy is that everybody is entitled to express their opinion in a lawful manner as are the residents of Clogheen, Co Tipperary in their opposition to 40 refugees being settled in their town. However if you feel strongly about something and you feel you're right in your beliefs, then you should be open in your expression of disagreement with the plans to house the refugees. Putting bits of cardboard with writing on them around children's necks or covering your face with anoraks and placards seems to be a bit cowardly. Using children to voice adults opposition to a situation is hopefully not something that other residents elsewhere will resort to. On a related matter FAS had an open day in St John's, Newfoundland, Canada. They expected 2,000 but 5,000 turned up. Minister Noel Tracey said "Isn't it great, 10 years ago who would have thought we'd be bringing our people home?" God Almighty, their ancestors left Ireland during the famine 150 years ago and went to Canada as refugees. Now they're "Our People". Only a few years ago the late Brian Lenihan stated that they were too many young people in Ireland and that they should emigrate. They were "Our People" too. A sixteen year old Nigerian boy in a Dublin chipshop, beaten up and ends up in hospital. A drunken mob attacks a Nigerian shop in Dublin, terrible wasn't it? But they're not really "Our People" what did they expect, Cead Mile Failte.
Thanks to all the business clubs who have put forward Roses this year to represent them. One winner will go forward to the Cork Finals in Jury's during the summer, and who knows we might have a Rose of Tralee from Douglas. I wish to thank everybody who continues to support this annual community night, and I hope you will turn up on the night to support all the Roses, and wish the winner well. Music is by the fantastic Soulmasters, our own Steve Goodman, with a first time stage appearance by the Band of the Douglas School of Music.
Finally on a serious note. I read drug dealers are now selling Viagra tablets on the streets of Cork. According to reports the price of a tablet is £9.00 and the customers are young people and middle aged men. I hope when those dealers are brought before the courts, they get a "Stiff" Sentence.
Bye for now,
Michael O'Hanlon.

---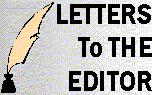 ---