18th May, 2000


I watched Questions & Answers on Monday night, Fergus Finley told us that Frank Dunlop was always a very generous man. Fergus, I'm sure a lot of councillors and the odd T.D would agree with you on that point. On the same night's news there was a new revelation the S.E.X word has come into the planning controversy, the mind boggles! The piece on the news was rather vague, was somebody offering or looking for it? How do you get IT into a brown A4 envelope? As this saga continues the word Gombeen springs to mind everyday. Put a Gucci suit and shoes on them but they are still Gombeen Men/Women, selling their vote to the highest bidder. I've never seen a developer in a red suit and a white beard singing Jingle Bells. They have money because they don't give it away, they use it to make more. If a complete stranger gives you £5,000 he's either mad or you've got something he wants to buy, and it's not a second hand car! There are 26 counties in the Republic, we have only heard about scandal in one, what about the other 25? To quote Shakespeare "There's something rotten in the state of Denmark" (and that's not the Eurovision Winner)
On a related matter we came across a well- known quote "Oh what a tangled web we weave, when first we practice to deceive" We thought it was a line from a Shakespeare play, but we weren't sure so we rang local school Regina Mundi, they told us that they would ring us back. I racked my brains. Who would know the writer of that famous piece? One name sprang to mind, well-known quiz expert and a friend of mine, Ross Anderson. Ross as usual came up with an answer, the quote is from "Marmion" (Act 2) by Sir Walter Scott, minutes later Mr O Regan from Regina Mundi's rang with the same answer. So Gentlemen, thank you both. Crooked Councillors, learn that quote off by heart, it just about sums you up!
I was listening to a radio discussion between Michael Healy Rae and Con O'Leary on 96FM last week. The topic of conversation was the Refugee situation, it went on for at least half an hour. Finally Neil Prenderville had to wrap it up, but just before he did he told us that he had time for an Elvis Presley song, which he played. The title of the song was "Return to Sender"
A great day was had by all last Thursday at the official opening of Breen's new Service Station and Store. Hundreds turned up on the day to wish the Breen family continued success in this well- known Donnybrook landmark. I took a lot of photographs on the day, some of which appear on this week's edition, with more to follow.
Congratulations to Frankfield Flooring who have just opened a Showrooms between Munster Carpets and the Grange Lounge Bar. I called up last week and they have an excellent selection of carpets and wood flooring on offer, give them a call.
The best of luck to one of our "Rose" judges last Friday night week. Sean O'Sullivan is about to launch his new monthly magazine entitled "Beautiful South" We wish him well in the future.
Soccer expert Plunkett Carter has just launched his new book "Sweet 15" It's a history of Cork schoolboy's Soccer. It is available from Douglas Mortgage Centre, Morris House Douglas. Price £5.
A few weeks ago I watched a T.V show on the Discovery Channel. The programme was about white supremacist groups in the U.S.A. One of the groups mentioned was "The Church of the Creator" The leader of the organization was a Rev Hale. Then last week the same Rev Hale turned up on the Jerry Springer Show, where he told Jerry their church does not believe in God! Does the U.S.A have a monopoly on fruitcakes?
A little bird told me that Joe Lynch (Who does such a good job at keeping Douglas clean) donned the Douglas colours again last week. The person who told me asked if this was a record? Joe has worn the Douglas colours over five decades, 50's, 60's, 70's, 80's and 90's. No bother to Joe, and I'm told the way he played, he'll be playing into the next decade. Well done Joe.
St Columba's Hall is now open every Friday and Saturday from 2.00pm and Good Luck to new bar manager Liam Murphy.
Finally Good Luck to our Douglas Rose, Audrey McGrath who represented Douglas Electrical at the Rochestown Park Hotel Rose Night. Audrey, we will be rooting for you on the night at Jury's.

Bye for now,
Michael O'Hanlon.

P.S. Good luck to Denise Allen and Christine Morey who have just opened a brand new unisex hair salon in Hillside, Pinecroft, Grange.
---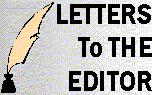 ---