8th June, 2000


I was down in Crosshaven last weekend and it was certainly undergoing a transformation. I was saddened to notice that the "Merries" were not open. Two years ago I interviewed Georgina Piper (The Piper family are the Merries) she told me that Pipers had been in Crosshaven for the past eighty years, call me old fashioned, but I believe that Crosshaven without the Merries is not the same. We all have memories, mostly happy of our times in Crosshaven during the summer.

I've always considered myself lucky to have been 17 years old in the sixties and holidaying in "Crosser". Way back then I had two friends, Michael Bowman and John Ryan, Johns family had a cottage in Crosshaven, and one of the most enjoyable weeks I ever spent in my life was sharing the cottage with Michael and John. The cottage was situated a short distance from the Majorca Ballroom. There we were, three 17 year olds with a cottage to ourselves for a week in the summer. Thousands of people flocking to the dance hall and the merries, seeing and hearing great bands like the Freshmen and eating chips from Miss Murphy's chip shop. Sadly nothing stays the same, the Majorca is gone, the lead singer with the Freshmen Billy Brown died last year, Mike Bowman died in London in the early 70's, Joe Piper who ran the bumpers in the merries passed away last year. They probably never knew each other, but their paths surely crossed hundreds of times, and I count myself lucky to have known and enjoyed their part in making my memories of Crosshaven so happy.

Last year I saw a piece on T.V about old fairground attractions. I think it was either Denmark or Holland, the local authorities recognised the historical contribution these old forms of entertainment had provided. They provided them with a site where they opened a few times a year, just to continue the tradition. Pipers have been a part of Cork social and cultural life for almost 100 years, and we should insist that their contribution to our social pleasures of the past should not go unrecognised. After all there's much more to life than Rupert Murdoch.

Last week in Kerry there was a debate on "Corruption in Irish Politics" Des Peelo, one of the speakers told the meeting that C.J Haughey was a complex man. He also stated that there was not a single allegation of corruption made against C.J Des also told us that the patrons (another word for people who give you money because they like you) who gave gifts to C.J wanted to be close to the Sun!! There's one problem when you get too close to the Sun your wings melt!! Incidentally, Des is a friend of C.J Haughey.

The residents of Frankfield are still waiting for a bus service. A few weeks ago on a wet Friday I saw school children being soaked as they walked from the last stop at Grange to Frankfield. Waiting for a bus service since 1957!! In the words of Paddy Donegan "It's a Thundering Disgrace"

It must be tough being a politician. One rang the office last week and just before the conversation ended Ronnie asked "what do you think of the O'Flaherty Appointment?" Silence for a second and then came the reply "I'll ring you back in 5 minutes". That was 34,560 minutes ago and we are still waiting. As I said it must be tough not been able to say what you feel or think.
Bye for now,
Michael O'Hanlon.

---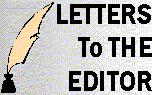 ---