29th June, 2000


I called out yesterday to the County Hall to tax my car. Usually when one goes out to tax a car one brings the tax book, Insurance certificate and a cheque or money. But I forgot something! My NCT certificate (National Car Test). As I had passed my NCT a few months ago I was lucky, the County Hall are linked up to the NCT centre and the woman at hatch one told me I was alright, my pass showed up on her screen. However, I presume it can take some time for the NCT centre to send it to the County Hall. So, don't forget your NCT certificate when you go to have your car taxed. As usual, the staff at the County Hall are fast and efficient. Well Done.
While I'm at it, as from this Friday June 30th, you will no longer be able to pay your telephone bill at Lapps Quay Eircom Head Office or any other Eircom office. As from next Monday you may pay your bill through the banks, post offices etc. The good news is that there will be no staff losses and the present counter staff will be employed elsewhere within Eircom.
To the reader who asked me if I could do anything about the weeds and grass on the footpaths in Douglas West? I was on to the council and they said that they hope to clean up that problem next week. It's the stretch of path from the bus stop to the area opposite the Credit Union. The reader also mentioned the condition of that same footpath which is, she suggested is in urgent need of repair. Another reader who lives in Calderwood Estate complained about the condition of the roads in the estate. He told me that he had been on to local TD's and Councillors but so far nothing has been done. I know that they read the Weekly, so they might put this matter to the Council, A.S.A.P.
I called down to Douglas Village S.C. last Thursday night to hear gardening expert Charlie Wilkins gave a talk and demonstration on all aspects of gardening. I mentioned last week that unfortunately I was not green fingered but I must admit that I really enjoyed the Charlie Wilkins talk, interesting, light-hearted and funny. I know he will be back soon. On Friday afternoon I called to Douglas Library to hear well known T.V. and radio presenter Liam O Murchu do a reading from his book "Black cat in the window". A charming man who hasn't aged a bit since Trom agus Aedtrom. A very appreciative audience had a very enjoyable afternoon. Just make sure you check out what's on in the Douglas Library every week. The classical music spot on Friday morning is worth a listen. Speaking of music, this Saturday July 1st, boy band AZIS are launching their new single "We want the same thing". One of the members of the group, Paul tells me that they will be performing live at the Douglas Village Shopping Centre. The show starts at 4pm.
Last week I congratulated Michael Burke on being elected Chairman of Grange / Frankfield Residents association. I was wrong! An apology to Michael and all the residents groups. Michael was elected Chairman of Grange / Frankfield COMMUNITY Association.
Things are hotting up in the political arena. CJs court case is postponed due to Mary Harneys gaffe. Wouldn't it be ironic if CJ Haughey caused the downfall of Mary Harney? It's going to be a long hot Summer for T.D.'s and Councillors. No Mary Harney, the Hugh O Flaherty saga won't be forgotten by October. Fianna Fail was thrashed in Tipperary last week. I'd say a lot of F.F. back benchers are afraid of an election. My forecast is: A general election in October, A change of Government, Bertie Ahern being replaced as leader by Michael Martin, Michael Noonan challenging John Bruton for the leadership of Fine Gael. Dan Boyle of the greens to take a Fianna Fail seat in Cork South Central. And finally, a lot of independent candidates will stand in the next election and they could decide who forms the next government. I'd value your opinions on the above.
Good Luck to Geoff and Sally who have taken over Pizza King in Tory Top Road. Geoff is a professional chef and together with Sally they have launched a brand new menu (see advert). So the next time you are sitting at home watching telly and feeling a little peckish simply Tel: 323555 and your order will be delivered to your door, mention the Weekly and you will receive a FREE 1.5 ltr of Coca Cola from Geoff. Where would you get it? Only from reading the Douglas Weekly.
Finally congratulations to Leslie Deane on his beautiful new jewellery shop in the Douglas Village Shopping Centre. One of the most important aspects of any retail business is the after sales service and Leslie tells me that the service is available six days a week. So why not call down and check out Douglas Jewellers in Douglas Village Shopping Centre and you won't be disappointed. And do support local.

Bye for now. Michael.

P.S. I'm told that a new bus service to Frankfield will begin next Sunday 2nd July. It will be a mini bus seating 29 and should run every ten minutes.
---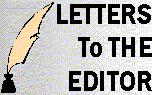 ---