20th July, 2000


Well folks it has been a mixed week. Crosshaven was and is the place to be. Ford Cork Week was the biggest and best yet. My wife and I called down on the opening night and the scenes reminded me of Cork City during Christmas week. The entertainment ranged from classical music to heavy rock, pop to disco. The organisers are to be complimented on a fantastic week of entertainment. Roll on 2002!
By now most drivers who live in Donnybrook, Grange, Frankfield will know that Church Road is closed. However today Tuesday, motorists coming down the hill into Douglas West assumed they could right at the school entrance and drive through past St. Columba's Church and onto the Carrigaline Road, but no luck. Drivers had to turn left and drive through Churchyard Lane, where a tailback greeted them. Surly a few traffic signs telling motorists that there was no through traffic would have made life a bit easier. Also a few No Parking Cones on Churchyard Lane coming from the Church Street would have left traffic flow both ways. Traffic coming up Church Street from Barry's Pub direction and wishing to turn left to go up Churchyard Lane could not do so yesterday, because only one lane of traffic was flowing due to parking in Churchyard Lane. Also motorists driving from the South County direction up Church Street and wishing to turn right up Churchyard Lane could not do so because of the situation which meant that very little planning went into this re-route of traffic. STOP PRESS. Traffic cannot now enter Churchyard Lane from Church Street.

Picture the next scene. It's Sunday afternoon, the sun is shining (which we all agree is a rare happening in Ireland these days) one of our readers who lives in Palace Ann Lawn, South Douglas Road decides to sit in the back garden and read a Sunday newspaper. Several readers who live in the area have told me that during the past few weeks their area has been under siege (again!) from crows and rooks. Anyway this man was sitting reading the paper when Bang! a crow crashed onto his head, it dropped onto the ground twitching (the man's wife told me it was still twitching hours later) The man like most of us got a nasty shock, but had the presence of mind to take a photograph of the bird on his patio. Later on from an upstairs window he happened to look out and there on his neighbours flat roof was another dead or dying crow and photographs were taken. I got a call on Monday, and I also took some photos of another dead crow in the adjoining grounds.

On Tuesday we rang City Hall and asked them had they put poison on the land fill (Dump) site on the Kinsale Road. We were told no questions would be answered over the telephone. All questions must be written and sent in, so we faxed a few questions (see right) and sent them.

I met a councillor yesterday in Douglas Village Shopping Centre and told him the story. He telephoned City Hall there and then, but there was nobody available to take his questions. As I write this piece on Wednesday morning we still haven't heard from City Hall.

The residents have put up with a lot for 26 years and I think that they are entitled to know if poison is being put down to control crows. These residents also have pets, and more importantly young children, what if those children picked up those birds? While I am on the subject the resident's houses, especially roofs are covered in bird droppings. Their cars are getting the same treatment. These people are owed an explanation, and they want it now !

Bye for now. Michael.
---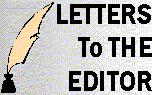 ---