10th August, 2000


Well folks the August bank holiday has come and gone. I always feel when the last holiday of the summer is over, the next step is buying the school books, the raincoats and the wellies! It seems to me that the traditional holiday resorts of Ireland, Crosshaven, Youghal, Tramore, Garretstown etc, are dying. The Celtic Tiger has bought an affluence, which allows everybody (well almost) to travel to the farthest corners of the world on their holidays. The village of Crosshaven has become urbanised with luxury houses built on sites costing £100,00, sites that forty years ago housed railway carriages as summer homes, where our Disney World was the Merries. My father built a bungalow in O'Regans field, Myrtleville in the late 50's and that was our holiday home in the 50's and 60's for three months every year.

Now forty years later as I write this I try to remember our summer neighbours in O'Regans field. There were the O'Donovans, Declan O'Donovan had a hairdressers on Georges Quay. There were a lot of girls in the family, next to them were the Dunnes, Garda Sergeant Dunne kept bees, his son Dr Michael Dunne who has a medical practice in Franfield. Next to us were the McKennas, Mr McKenna was involved with, as far as I can remember, Cork Hibs football club. Mrs McKenna was German born. A few months ago I met Betty McKenna who now lives in Carrigaline and she told me that she married a German. Another family that stayed in O'Regans field for the summer were the Gregors. We were only children, but every evening after tea Mr Gregor (later I found out that his first name was Sylvester, and that was a well known soccer referee) would come out to play football with us, he was always laughing and joking, a lovely man. Later on in life I called into Brennans in Tuckey Street where he worked and thanked him for the happy memories.
Another family were the McPhilips, Hughie is a well known auctioneer, Niall who works in Dublin I met a few months ago in St Columba's Hall, I reminded him that Mr Gregor nicknamed him "Niall of the Nine Sausages" He remembered and we spent some time reminiscing about Myrtleville.
They were the Cremins. Mr Cremin worked in Hobbs men's wear shop in Patrick Street. His son Michael used to hang out with us. Drew Crowley who worked in the Examiner and had his own speedboat. The Dorneys, who stayed next door to us. The O'Connells who stayed in a bungalow behind us. Donal, Barry and Mary O'Connell were our friends during the summer. I met Barry a few weeks ago in Crosshaven, and we talked about the good old days in O'Regans field. Mary with her husband Sean Fitzgerald runs Daily's store in Douglas. Finally I believe that some of the most important things in life are memories, especially happy ones, and these are what I have of my times in O'Regan's field, Myrtleville in the late 50's and early 60's. Do any of our readers have memories of their summer holidays in Crosshaven? Would you like to share them with our readers.

There's a very good letter in this weeks letter page, and a lot of the sentiments expressed by the writer I would have to agree with. We have a community park, a community hall, but do we have a sense of community? Are you doing enough for the elderly? Are there enough decent facilities for our young people? The country has never been so well off, but is everybody sharing in its wealth? I think not.

Another tragic weekend on the roads of Ireland, I'd like to know does speed account for more deaths that driving under the influence of drink? I read on a newspaper that two teenagers killed recently went out head-first through the windscreen when their car crashed. If something like this does not scream "For Gods Sake, Belt Up" then nothing will. Speeds up to 100mph are common on our roads nowadays, with more powerful cars coming on the market every year. Anybody caught speeding at that level deserves to be put off the road for a year with licence endorsed. On Tuesday as I was coming from Douglas Court shopping centre approaching the Fingerpost Roundabout a wine coloured car driven by I'd say a twenty year old, took the bend on the roundabout on what looked like two wheels, he had only limited control of the car. He was driving so fast I could not even take his reg. number. They say 'speed kills', mix that with youth and you have a time bomb that might kill you or your family. Get them off the road now and keep them off.

Bye for now,
Michael O'Hanlon.
---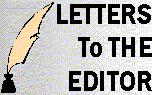 ---