17th August, 2000


I haven't been to Kinsale in ages. Last Sunday afternoon I decided to change that, I got a shock when I drove up the Airport Road and reached the roundabout at the entrance to the Airport the roundabout is a circle of weeds, no flowers, no colour just a mess of weeds. A visitor to our city leaves the airport and is greeted by a circle of weeds. Contrast that with the Well Road and the roundabout at Carrigaline Church, both beautiful. The Well Road Roundabout provided by the Cork Corporation and the Carrigaline one by the County Council. Now look at the roundabout between Shell and the main Douglas entrance to Douglas Village Shopping Centre, now that the Douglas Weekly is in colour I must take some colour photographs and show you what I mean.

I took my Grandchild to the Community Park last Saturday evening at about 7 o'clock. I was saddened to see so much litter, fast food wrappers, cans, off licence bags, and the culprits? Teenagers! There should be litter bins provided and positioned next to seats. As far as I could see there was only one litter bin in the entire park. The graveyard wall of St Luke's was destroyed with graffiti, as was the children's play area. A CCTV system would seem to be the obvious solution to this scourge. I often ask myself are we serious about the litter problem? The authorities will take out page advertisements in a national newspaper to tell the readers about the evils of litter. the only problem with that is the people who throw the litter don't read the national newspapers. Think about it, two full-page adverts a year in a national newspaper would cost about £16,000, the cost of a litter warden in Douglas? Probably about £16,000 per year. Which makes more sense? The council tell us that they can't afford to have Douglas swept on Sunday, what did they spend on making Crosshaven look beautiful for the Ford Week.

Did I read somewhere that Killarney UCD want chip shop's to close earlier because they attract trouble? Why not close pubs and off licenses at 6 o'clock each evening and then we'll have no trouble, ban cars and we'll have no road deaths. Do people honestly believe that people 'tanked up' with drink and looking for some trouble are going to go home like good little boys because the chipper is closed? We have a police force whose job it is to enforce the law and not let rowdies and vandals rule our streets at night. The streets belong to us all, morning, noon and night, and we should be able to walk them in safety without fear of threat or intimidation.

I know somebody who took out a mortgage almost 20 years ago. The amount was £22.500, now 19 years later he has paid back almost £70,000, no problem with that everyone has to make a 'buck', now thanks to the Celtic Tiger he has enough to clear the remainder of the mortgage. He calls to his branch office and asks how much is owed on the mortgage, he is told £5,339, he tells the manager he can give them a cheque for £5,000 in half an hour. The manager rang Dublin the answer was a swift 'No', they want it all, this from an institution that has been involved in some serious financial irregularities involving dirt tax. The little man must always pay, he has no choice, but sometimes the little man wins, remember David and Goliath? Anyway this is only round one, next week round two continues with his story. I hope that like all stories this has a happy ending, if not, it could go on and on and on. Order your Douglas Weekly Now!

Bye for now,
Michael O'Hanlon.
---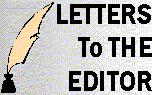 ---