ARMED ROBBERY; PIRACY, MEDIA; PIRACY, SOFTWARE; DESTRUCTION OF PUBLIC PROPERTY; INDECENT EXPOSURE
DAVID LENIHAN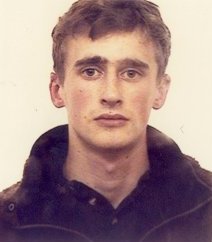 Photograph taken in 1998
Aliases: David Leonard; David Beirne; "lenny"
DESCRIPTION
Date of Birth:
April 1, 1979
Hair:
Light Brown
Place of Birth:
Charlestown, Co.Mayo, Ireland
Eyes:
Brown
Height:
6'
Sex:
Male
Weight:
150 to 175 pounds
Race:
White
Occupations:
System administrator,
and Web designer
Nationality:
Irish
Remarks:
Lenihan wears mostly light colored jeans and brown pullovers. He is of slim build and surprised expression
Scars and Marks:
He has a birthmark in the shape of monaghan on his left buttock
Social Security
Number:
444-60-439

CAUTION
DAVID LENIHAN IS WANTED IN CONNECTION WITH MULTIPLE CASES OF SHEEP ABUSE

CONSIDERED DANGEROUS
IF YOU HAVE ANY INFORMATION CONCERNING THIS PERSON, PLEASE CONTACT YOUR LOCAL DAFT OFFICE OR THE NEAREST U.S. EMBASSY OR CONSULATE.
REWARD
A reward of up to $10,000 is being offered for any information leading directly to the arrest of David Lenihan.
DAFT No. # 6966DA1
September 1999

---
[ View PDF Version ] [ View Spanish PDF Version ]
[ Buffalo Field Office ] [ Ten Most Wanted Fugitives ]
[ Most Wanted Page ] [ Facts ] [ DAFT Home Page ]
[Hear The Soundbites]