"...The Noel Lambert puppet show is a great source of entertainment and education for little ones but for adults who are looking for a little self healing come on down, revisit the child within, because I'll even admit you're never to old for a good old fashion puppet show."
-Khaled Hasan Subaihi-
Emirates News, Dubai One TV.
Planning your next program for your special event.
The Noel Lambert Puppet Theatre is the brand name chosen by Event Managers in search of a truly valuable and memorable theatrical experience for children and adults alike.
For ultimate performance value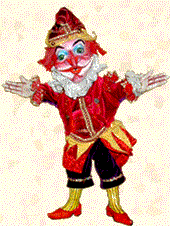 Noel Lambert Puppet Theatre - Ireland - Phone: +353498548883 Mobile: 0861541043


Contact Noel and Eva with any queries!
This is how:
Noel Lambert Puppet Theatre
Phone: +353(0)498548883
Mobile: +353(0)861541043