B
ack TIP HEAD>>>>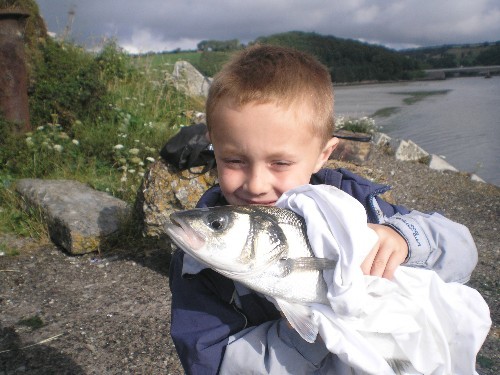 Left: My Grandson Cole with a tip head bass caught and released 27/7/08
Below: Typical Tip head flounder caught in competition early 2008.
Tip head, Situated next to the dump in Youghal has been a cracking flounder mark for ever. Yet now bass are turning up in even more frequent numbers, along with coalies and small codling in the winter months. If you don't mind the walk, just over half a mile from the gates of the dump you are almost guaranteed a fish of some description. In fact its the only mark I have never blanked on. The best fishing is had on neap tides of around the low 3mtr mark, two hours before and after low water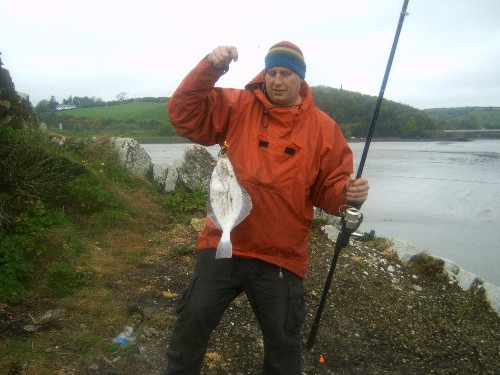 . Crab is the only bait you need though fish baits can account for the coal fish and the odd dog. Slack tides give the angler the opportunity to fish really light I use 1/2oz leads on flowing traces flicked out on either side of the mark and rolled with the tide, great fun if you get a large flounder or a bass. I sometimes use plenty of beads and attractors and sometimes I don't, there doesn't seem to be a difference in catch numbers. This mark is only large enough for four anglers at most and if you cast out straight you wont get your terminal gear back as it will get fouled up in the rubble of the old bridge.
2009, Tip head has consistently produced decent flounder and bass into the new year even when the weather has been very rough.