DENTAL FLUOROSIS IN IRISH CHILDREN
THE FIRST LEAFLET ON DENTAL FLUOROSIS IN IRELAND.
LEAFLETS AVAILABLE FROM FLUORIDE FREE WATER. fluoridefree@eircom.net or 086 8720907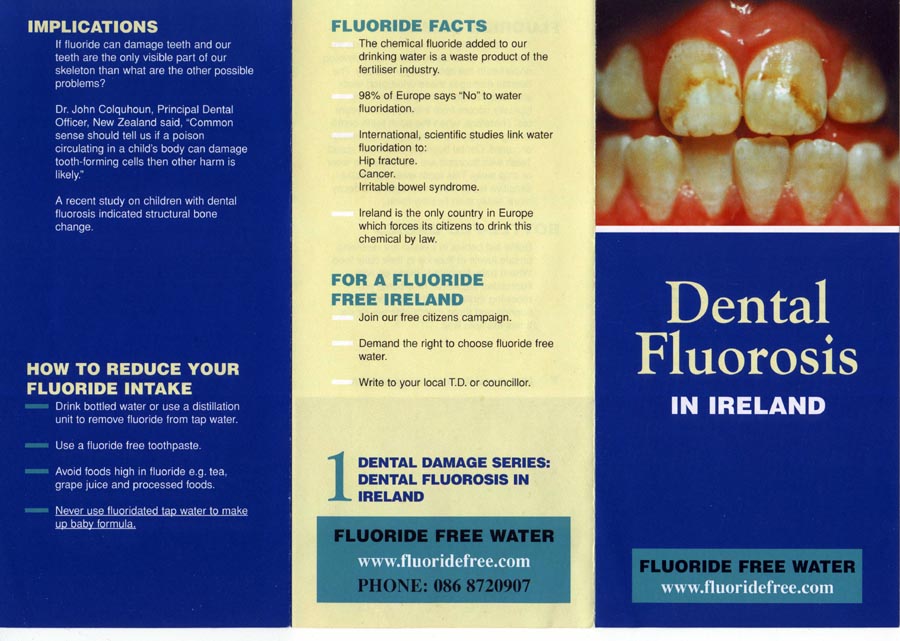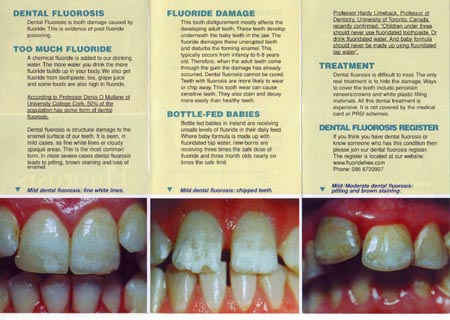 Press Release 1/5/2001
DENTAL FLUOROSIS IN IRELAND
FLUORIDE POISONING IN IRISH CHILDREN.
Fluoride Free Water are re-launching the Dental Fluorosis Register of Ireland with an informational leaflet containing pictures of dental fluorosis in Irish children (see enclosed). Currently there are over forty children/adolescents registered with varying degrees of fluoride tooth damage. This tooth damage, seen as white lines or spots in mild cases and as brown staining and pitting in more severe dental flurosis, continues to increase in Ireland.
There is much confusion over the official levels of this oral disease. Professor O Mullane, University College Cork, estimated that, "[w]e find that approximately 50% of the population who reside in fluoridated communities have this very mild, very questionable change in the appearance of the enamel" . However, he recently revised this figure, "20% had questionable/very mild fluorosis" and "the remaining 4% showed evidence of mild/moderate fluorosis". The Department of Health adds further confusion, Dr. Gerard Gavin (Chief Dental Officer) states that in Ireland there is "a 10% risk of mild to very mild dental fluorosis".
Dr. Don Mac Auley, Dental Advisor to Fluoride Free Water, recently expressed his concern, "in my dental practice, dental fluorosis affects nearly 50% of all children and teenagers. Some of these kids are desperately unhappy about the appearance of their teeth and there is growing concern among parents about the implications of this fluoride damage. In my opinion, dental fluorosis, no matter how mild, is the first sign of past fluoride poisoning. To ignore fluorosis or declare it is "a cosmetic effect" is like saying that the blue-black line, which appears on the gums due to chronic lead poisoning, is of no signific ance because it does not cause any pain or discomfort. This does not make sense. We should be reducing our fluoride intake because soon dental fluorosis will be at epidemic levels in Irish children. This has already happened in the United States where levels of fluorosis have sky-rocketed to 80%. The best way to reduce dental fluorosis in Ireland with immediate effect is to stop water fluoridation."
If you would like more leaflets or further information on this subject then please contact us at our website www.fluoridefree.com or telephone 086 8720907.