Fox Fur Farm Horror in Ireland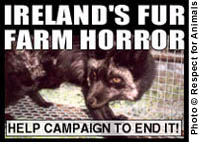 Pictured above is a silver fox caged on one of two fox fur farms confirmed to exist in Ireland.
Conditions for foxes are appalling in these centres of cruelty. The abusive treatment of foxes - and mink - have been captured in images and video footage obtained by Respect for Animals.
There are currently at least two fox fur farms in the Republic of Ireland and six mink fur farms. Since a licence is not required to operate a fox fur farm, the exact figure for the number of such farms is not available.
But the Department of Agriculture estimates that there are over 1,700 silver and Arctic foxes cooped up in cages here. Meanwhile, an estimated 110,000 mink are kept in fur farms in Ireland.
These animals live a life of misery for six months before they are killed. And since the methods of killing are barbaric and inhumane, the animals suffer right up to the moment of death.
Fur farm animals are killed without any veterinary supervision in Ireland. Foxes are electrocuted while mink are gassed in carbon monoxide - a slow death for mink since they are semi-aquatic animals and are capable of holding their breaths. Both of these methods of slaughter remain legal here.
Animals caged for their fur are essentially wild animals. They retain their natural instincts to roam, hunt and, in the case of minks, to swim. Impossible activities in the fur farms where thousands of animals are confined in rows of small wire mesh cages.
Please sign the petition against this inhumane trade in animal suffering. Also send an email to the Minister for Agriculture, Joe Walsh, asking him to show compassion and shut down the fur farms. Remind him that fur farming has already been banned in the UK.
Take Action Now
1. Email Minister for Agriculture, Joe Walsh
Email Minister Walsh
2. Sign the Foxwatch Ireland Petition
Print out a petition and get all your friends to sign it.
Further Information
If you wish to find out more information about fur farming in Ireland, please click on the links below.
Licence Conditions
The conditions specified by the Department of Agriculture for those who possess a licence for mink fur farming. More...
Irish Fur Farms
A list of mink fur farms operating in Ireland More...
Disturbing Department Documents
The Department of Agriculture documents that give a shocking insight into the sordid reality of fur farming in Ireland More...