The Sligo County Fleadh 2005 was held this year in Strandhill, Co. Sligo from Friday 3rd June to Sunday 5th June.
The Fleadh was hosted by the Sligo Town Branch of Comhaltás Ceoltóirí Éireann
and like last year, the competitions will be held over two days.
County Fleadh 2005 Results (new!!)
Solo competitions were held on Saturday, while duets, trios, Grupai Cheoil and Ceili Bands were held on Sunday
What a holiday weekend we had in Strandhill from 3rd to 6th June when thousands gathered for the County Fleadh, held for the first time ever in the seaside village of Strandhill and hosted by the Sligo Town branch C.C.E.
The weekend kicked off with the official opening of the fleadh by Clr. Margaret Gormley, Cathaoirleach , Sligo County Council. In her address Clr. Gormley paid tribute to the hard work of the organising committee. The official opening was held in Kelly's
The guest speaker on the night was Mayor of Sligo, Alderman Declan Bree, who is a lifelong menber of the Sligo Town Branch.
The official opening was followed by a special tribute concert for two of the great stalwarts of traditional music in sligo,
Sheila O'Dowd and Verona Ryan.
Sheila and Verona were joined by their family and friends for a great night of music and song in Kelly's Bar. Of course there was lots of music throughout the village. The organising committee ensured that there was music in every location.
_______________________________________________________
Saturday dawned dull and grey, but this did not stop the many hundreds of young competitors who descended on St. Asicius National Primary school, where all the competitions were held.
These solo competitions started at 10.30 am and continued throughout the day until about 6.30 pm.
During the afternoon there was street music on the stage near the beach as crowds gathered to sample the delights of the Fleadh weekend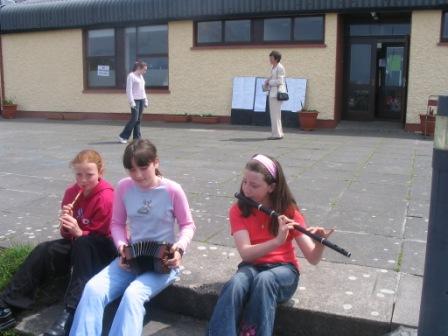 Great credit is due to the competitors, teachers, parents, adjudicators, call stewards and all who helped to make the day a great success. Not forgetting of course the sterling help we got from the warriors committee
At this stage on Saturday, the village was bulging at the seams with visitors and musicians. Mick Shannon launched his new CD in the Countess Bar. The music continued there and next door in The Strand Bar. Up at the top end of the village great sessions of music were taking place in Kelly's, The Venue, The Dunes and of course Bree's . A great combination of music and singing took place in Bree's and it will be talked of for many a day.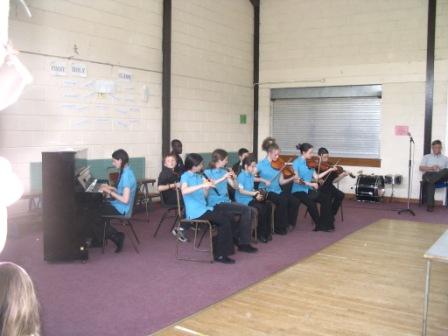 The set dancers danced to the sound of the Swallow's Tail in Kelly's
__________________________________________________________
Sunday dawned bright and warm and it was back to the serious business of running a fleadh
After a bit of soul cleansing at 12:00 noon in St. Ann's Church of Ireland and at 12.30 pm Traditional Mass in Strandhill RC Church it was back to the group competitions , Duets, Trios, Grupai Cheoil and Ceili Bands
Fleadh 2005 Results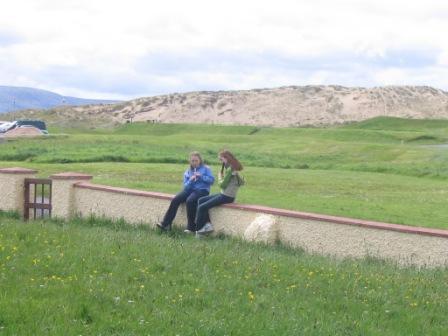 These competitions started at 1.30 pm
Apart from the competitions, there was plenty of afternoon music in downtown Strandhill. They were joined by Sligo Pipe band to entertain the thousand of visitors who packed into the village to enjoy the bright wam sunshine and lively music.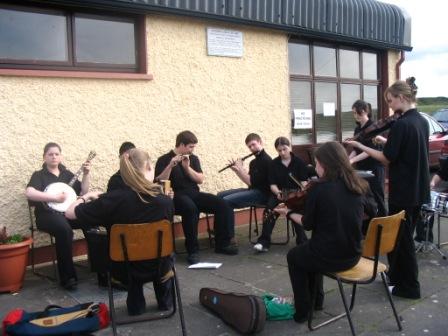 With competitions now over it was on with the session all over the village. All the pubs rocked to the sounds of the very best of music and song.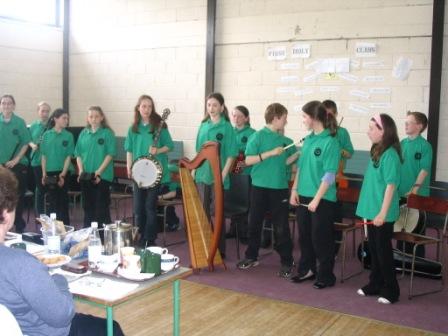 _____________________________________
Of course events did not end on Sunday --they never do on these occasions. Music continued on Monday and into Tuesday.
Great credit is due to the traders and businesses of the village of Strandhill, who wholeheartedly welcomed and supported the Fleadh in Strandhill.
MORE PICTURES LATER
_____________________________________
Somebody once asked Sheila O' Dowd who had taught her music and she had to confess that she cannot ever recall being taught the fiddle nor can she recall when she began playing! This may seem strange to many of us but for people like Sheila who grew up in a house where music was part of their everyday lives learning to play music was as natural a progression as learning to walk or talk.
Sheila considers herself very privileged as she grew up "listening" to music and in a time when " house sessions" were very much the order of the day. She regrets the fact that this tradition has more or less died out and the "pub" has become a more popular venue for music nowadays. Music in the house is a more natural setting for playing music and a place where young and old can mix comfortably. As a youngster Sheila has very fond memories of a home where most days neighbours from around her native Bunninadden and its environs would gather in her house at the end of the day for a tune. (and on the odd occasion work on the farm might have been put on the long finger if a musician, like Sonny Mc Donagh dropped in!) Music would be played until the early hours and all had a truly great time.
Music was addictive and her mother who didn't play herself once made the comment, "I've come to the conclusion that all musicians are mad! " It must be pointed out nevertheless that her mother supported her musical family in every way and would serve tea in the house at each session. A lively discussion would take place during the tea break about tunes, styles and musicians. This kind of evening was invaluable to the younger members of the household such as Sheila and her five brothers who were all lucky to have inherited the art of playing from their father, Frank Regan, who was a very fine fiddle player.
Frank Regan's grandfather was a native o fCork and was in the horse trading business. There was a lot of music in Frank's side of the family. His brother Tom was a particularly good flute player, but he died at a young age. His sister Elizabeth Kielty who lived in Boyle was a great fiddle player. Unfortunately all of Sheila's uncles and aunts have passed away
Only one of Sheila's brothers, who was called Mick, continued to play music after he grew up. He was a very accomplished fiddle player. He emigrated to England and played in regular sessions with Mick Shannon. However he stopped playing music about fifteen years before he died. Sheila is happy that she succeeded in recording him one afternoon in her home in 1990, shortly before his death.
The fact that Sheila can name at least fifty musicians from around her locality while she was growing up is indicative of the strong musical tradition in South Sligo. Martin Wynne was a close neighbour. He was a lovely man and a fine fiddle player and composer. He composed several tunes and many of them we have never heard. He was a quiet, retiring man and very astute, particularly in discerning people's level of interest in music. He tended to play only when he had a listener's undivided attention. Martin went to the U.S. in 1948 and he worked in the Post Office. He returned to Ireland after a long time. He developed Alzheimer's disease and spent his latter days in a Nursing Home in Buffalo. His sister Brigid would visit him and he eventually deteriorated to the point where he no longer recognised her. However he could still play a tune and this was a great comfort to him and indeed to Brigid, as music had embellished his life until his dying day.
Fred Finn was another neighbour and a very good friend of Sile's family and they visited each other frequently over the years. Fred was a lovely gentle man and very generous with his music. His father, Mick was a lovely fiddle player and had a style somewhat similar to Michael Coleman. Sheila has a special memory of Mick playing "The Lakes of Sligo" as a slow air.
Sheila married "the great fiddle player" Joe O'Dowd, although she is quick to point out that he was more than just a fine fiddler and that there were many other sides to Joe that people didn't know of. She refers to the fact that he was a wonderful family man and the many pictures that adorn the walls of her home suggests that he is still very much a part of their lives. Sheila first met Joe at the opening of Markievicz Park after he had returned from England. She is very proud of the fact that she also got to see Christy Ring play that day! Subsequent to this meeting Joe invited Sheila to accompany him to Bawnboy, Co. Cavan to play in a concert. Sonny Flynn from Castlebaldwin and Peter Horan played in this concert too. After their marriage they got down to serious fiddle playing and when young Seamus came of age he would join them at sessions in the Trades' Club in Sligo town.
Like his parents Seamus just picked up the fiddle at a young age and learnt his music from listening to and playing with them and with other renowned musicians of the time. Despite the fact that his parents were both accomplished musicians, Seamus was given every freedom to develop his own style and to experiment. Although none of his six siblings play music, Seamus has inherited more than enough talent to ensure that the musical line will not be broken. Nowadays he is a member of the hugely successful group, Dervish.
Sheila is very thankful that she was born into a musical environment and could not imagine a life without music. Music will always add enrichment and fulfilment to her life and indeed Sheila has shared her musical expertise in fiddle playing very generously over the years with many people in Sligo, both young and old. As we celebrate the 50th anniversary of Comhaltas we in Sligo also celebrate our own unique style of fiddle and flute playing and thank God that people like Sheila O' Dowd continue to preserve this tradition which has survived for generations.
Cloonlarin, Doocastle
Just inside the Mayo border with Sligo, in the townland of Cloonlarin, Doocastle lived Thomas and Mary Henry, who between them reared 11 children. Most of these children could either sing, recite or play a musical instrument. No doubt they inherited these many talents from their parents, for Thomas Henry lilted tunes and Mary sang the songs. In this article let us look at and appreciate the talents and achievements of four of them, John, Kevin, Verona and Martin.
John Henry, who became an accomplished fiddle player, loved the music from an early age. As a boy, he would sit and listen to the many musicians who visited his home. At this time there were many fine fiddle players in the Doocastle area, including Pat Kellegher, Pake Spellman and John Michael Cawley. Also there was a travelling music teacher named Towey, from Foxford. Her husband taught Irish dancing and it was from Mrs. Towey that John got his first lesson. Flute players were also in plentiful supply, of course and among these were Pake Maree, Mick Joe Ryan and Michael Duffy from the Rooskey area and Sonny McDonagh from Bunninadden. There was also a piper named Pake Joe Maree from Cuilmore near Gurteen. These were regular visitors to the Henry home.
It was a yearly occurrence around Christmas to have "porter sprees", where a band of musicians would gather to provide the music. John picked up many of his first tunes at these sessions. Later he got lessons from a music teacher in Charlestown by the name of P. J. Giblin. As the years progressed, John was in much demand for social functions, concerts, ceili's and weddings.
He formed a ceili band called "St. Joseph's". Other members who played with John in the band were: Paddy Gavin on fiddle, Mick Joe Ryan on flute, with his son Thomas B. Ryan also on flute, Frankie McAndrew-Donohue on accordion, Stephen McDonagh on tin whistle and Verona Henry, John's sister on fiddle. This band enjoyed widespread popularity in the late 50's and 60's and did much to maintain interest in traditional music at a time when other forms of entertainment were coming to the fore. Sadly, many of these fine musicians are no longer with us.
John's music was recorded by Sean O'Riada on an LP called "Musical Heritage", where his brilliance and skill at the playing of "Reidy Johnston's" and "Up against the Buachalláns" are truly a pleasure to listen to. He also played in competitions and came 2nd in the All Ireland Fleadh in Loughrea in the early 50's. John, a man of great talent, both as a musician and storyteller passed to his eternal reward in 1996 at the age of 74. He is sadly missed by all the people, who had the pleasure of knowing him.
Kevin Henry, another member of the family was, from an early age, keenly aware of the musical traditions around him, because of course there was an abundance of musicians in the area. Kevin was left-handed and as he says himself, "only for that I would have been a fiddler".
He cites a long tradition of Flute and Fife & Drum marching bands as a primary reason for the prevalence of flute music in the Mayo/Sligo area. At about the age of 11 years, Kevin took up the tin whistle. Later he progressed to the flute after repairing an old one that had been given to him. From that time, he practised and added to his repertoire as he listened to his brother and local musicians.
Kevin emigrated to England in 1947 where he took up the war pipes and later the uileann pipes. The reason for this was because the flute could not be heard in the packed dance halls where a drummer and Kevin, would play for the "Siege of Ennis" and some waltzes. This was a normal feature of the dancehall scene in England at that time and the "Irish" portion of the programme lasted for 30 minutes or so, before they returned to the modern portion again.
After emigrating to Canada, then to New York, he later moved to Chicago. This was the home of the legendary Francis O'Neill, Chief of Police from 1901 to 1905. Chief O'Neill had collected 3400 pieces of traditional Irish music in his lifetime. In Chicago Kevin was disappointed to find that Irish music was confined to a few dance halls scattered around the City. In 1956, Kevin was one of the founding members of the Irish Musician's Association. Some of the original members included Jimmy and Eleanor Neary, Johnny McGreevy, Jimmy Donnelly, Mary Donnelly-McDonagh, Frank Thornton and Pat Roache. The organisation thrived as local competitions were instituted and funds were raised to send local winners to All‑Ireland Fleadheanna Ceoil. Most valuable of all, several of his sons and daughters learned the music. Kevin and Pauline's children learned to play and Maggie; his daughter plays fiddle and flute and still accompanies Kevin at many functions.
As well as being a fine musician, Kevin also does some acting work. As a member of Chicago's Guild Players, his most important role was in 1996, when he appeared in the Goodman Theatre's production of Eugene O'Neill's "A Touch of the Poet". Alongside the actor Brian Dennehy he played a part that required he play the pipes and sing a passage from O'Neill's words, set to an ancient tune.
Kevin, in addition to his music playing also recites poems and recitations, among them "Guilty or not Guilty", "The Green eye of the Yellow God", "The Hell-bound Train" and many more. These recitations and more are included on a recently released music CD entitled "Ones Own Place a Family Tradition", which also features music from his brother John, sister Verona and his daughter Maggie.
Kevin resides in Chicago and pays regular visits to Ireland. When he visited Ireland in October 2000, he appeared at Vicar St. Theatre, Dublin in the production of "The Well" by the renowned musician and radio producer Tony McMahon, John Comisky and executive producer John McColgan who played a key role in developing "Riverdance". The show, a mixture of music and poetry, was an outstanding success, featuring 10 musicians which included Neillidh Mulligan on uilleann pipes and Tony McMahon on accordion.
Verona, the youngest member of the family learned her music from her brother John, but later learned to read music at the Marist Convent Tubbercurry. Margaret Houlihan‑Morahan taught Verona and always encouraged her to play the Irish music. When she would play her exam pieces, Margaret accompanied her on the piano.
Verona played with her brother at various functions and concerts around the area and also in duets and trios at feiseanna and fleadheanna ceoil. She remembers playing in a band competition at a fleadh when there were 15 musicians on the stage, all assembled on the day. They did not get a prize, but the adjudicator was impressed by the very fine music. After working in Charlestown for a number of years, she moved to Sligo where she lodged with Joe and Sheila O'Dowd. No shortage of music here and Verona found plenty of outlets for her music. She later joined a group called "The Lakes of Sligo" with Eugene Nellany and Jimmy Walsh on accordion. They played in various pubs and other venues around Sligo and district.
In more recent years she has been involved with ceili bands, first "The Four Winds" with P.J. Hernon, Michael Hurley, Jim Corrigan, Jim Carroll, Sheila O'Dowd, Declan Payne and Seamus O'Donnell. Presently, she plays with "Shannon Breeze", featuring Deirdre Collis-Golden, Dessie Collis, Mick Shannon, Sheila O'Dowd, Mick Loftus, Harry McGowan, John Dwyer, Kerrie Herrity and Joe Clancy.
Verona plays at many sessions around the Sligo area. She plays regularly with Sean and Irene Maloney, originally from Galway, now living in Sligo. Sean Maloney, whose style and accomplishment on the flute cannot be surpassed, also plays fiddle and whistle. Irene, his wife plays fiddle, mandolin and bodhrán. Also playing with her regularly would be Maria Keaney, flute and Walter Marren, banjo and guitar. Other regulars would be Carmel Gunning flute and tin whistle, Kevin McTiernan, a very fine flute player and Michael Carroll accordion.
Carmel Henry-McHale, another of the Henry family is a notable Sean-Nós singer. She has many beautiful old songs in her repertoire, among them "Your Mother's still your Sweetheart", "Seanagolden", "The Boys of Bár-na-Sráide". Carmel lives with her husband Jim at the family home in Cloonlarin, Doocastle.
Another brother, Martin was a poet and songwriter as well. He composed many poems about various local happenings. Nobody was safe if Martin decided that, in song or story, the occasion deserved to be remembered, - be it a row in the village, or a happy occasion.
His best known composition was "McAlpine's Fusiliers", popularised by Dominic Behan and recorded by The Dubliner's. Martin had spent many years in England and was acquainted with the various people mentioned in the song, which was a true story. Many of the people mentioned in the song worked alongside Martin and the "Darky Finn" came from Cloontia, near to Gurteen and Doocastle. Martin is no longer with us. He passed away in 1987.
In Doocastle, a fairly small geographical area, there is a monument to 28 local musicians. The music of our County and Country has been immortalised by such famous names as Michael Coleman, Lad O'Beirne, Paddy Kiloton, Martin Wynne and many more musicians who lived in the South Sligo/East Mayo area. Now we always add another name to that list, The Henry Family.
Brief Competition Rules
All competitions shall be traditional in character

Age reckoned from 1st January of Fleadh year.

Competitors must compete in own age group in solo competitions.

Please ensure that you are entered in the correct age group.

Electronic or amplified instruments are not allowed, except electronic piano in the Ceili Band competitions

Only competitors resident in Co. Sligo, are eligible to represent Co. Sligo in solo competition at the Connaught Fleadh.

The decision of the Adjudicator is final in all competitions.

If the competitor is a member of a Branch of Comhaltás, then he/she must enter in the Branch name.

The following class of tune is allowed:
Reel, Jig (single, double, slip), Slide, Polka, Hornpipe, March, Set Dance.

Solo Competitors must perform the following:
U-10, U-12, 12-15 2 Tunes
15-18 3 Tunes
O-18 4 Tunes (including 1 slow air)

Solo and Ensemble Competitions are held in the following Age Groups:
U-10 (Non-Qualifying Event)
U-12
12-15
15-18
O-18

Slow Air Competition
U-12 2 Airs
12-15 3 Airs
15-18 3 Airs (See Clár)
O-18 (Adjudicator will select 3 from 8 submitted)

Singing (The following abbreviations are used S = Slow, L = Lively)
U-12 2 Songs (1 S/1L) of your own choice
12-15 Competitor to submit list of 4 songs (2 S/2L). Competitor will sing 2 songs, 1 own choice
and one choice of Adjudicator
15-18 Same as 12-15
O-18 Competitor to submit list of 6 songs (4 S/2L). Competitor will sing 2 songs, 1 own choice
and one choice of Adjudicator

Newly composed ballad must not have been sung previously at any Fleadh.