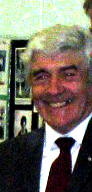 Heartiest congratulations to
Seamus
McCormack, presently Chairman of the Fred Finn Branch, who has been elected the new National President of Comhaltas Ceoltoiri Eireann, becoming only the fourth person from the province of Connacht to have previously held the office of President since the foundation of Comhaltas in 1951, the last having been the late Seamus de Brún from Roscommon from 1973 to 1976.
Seamus has been involved in the promotion of Irish culture for many years.
He is a founder member of the Fred Finn Branch and has served as branch chairman since 1989.
Through the branch classes hundreds of young people in the Sligo area have been introduced to Irish music, song and dance. Many branch members have become household names in the traditional music world and in 2008 two senior ceili bands representing the branch were placed first and second at the All Ireland Fleadh in Tullamore.
Seamus put the original Innisfree Ceili Band together in 1989 and this band went on to win an All Ireland title at underage level.
The Innisfree Ceili Band became the first band from West of the Shannon to win a senior title in more than forty years, followed by the Dartry Ceili Band in second place.
Seamus directs the branch music class which is conducted on a weekly basis in Gael Scoil Cnoc na Ré, Maugheraboy. The branch operates a music instrument bank which gives young people access to fiddles, flutes, concertinas, accordions and harps. Bands and grupaí cheoil are prepared for participation in the Fleadh competitons every year.
Seamus has been chairman of Comhaltas in the province of Connacht since 2001 and a member of the Árd Comhairle, the central executive of Comhaltas. He is also chairman of Meitheal an Iarthair, the body which has spearheaded the development of Ceolaras Coleman in Gurteen as a regional resource centre for Comhaltas.
Comhaltas Ceoltóirí Éireann was established in 1951 to promote Irish traditional music, song, dance and the Irish language. Today there are in excess of 415 branches of Comhaltas in fifteen countries on four continents.