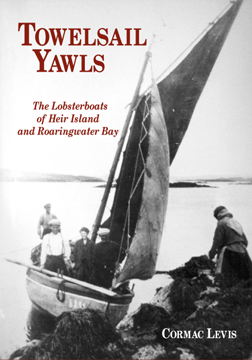 Towelsail Yawls

The Lobsterboats of Heir Island and Roaringwater Bay

Cormac Levis
From the 1870s to the 1950s, the sailing lobsterboats of Heir Island and Roaringwater Bay in West Cork dominated the lobster fishery of the south coast of Ireland. Leading a semi-nomadic lifestyle, the lobstermen fished a stretch of coastline of over a hundred nautical miles in their small open boats.

Cormac Levis has spent many years collecting folklore and memories from the older generation of seafarers, and tells for the first time the remarkable story of these boats and the men who fished them, providing a fascinating insight into a unique way of life that had been in danger of passing unrecorded into oblivion. The author also puts forward evidence of the existence of a pre-Famine lobsterfleet, and details the modernisation and eventual demise of the lobsterboats in the 1950s and 1960s.

Cormac Levis, who teaches at St Fachtna's De La Salle, Skibbereen, is a native of Ballydehob. For generations, his family worked sailing sand-dredgers out of this small, tidal harbour. In the late 1970s and early 1980s, he fished off the south coast at a time when many veterans of the towelsail yawls were still going to sea. Cormac is one of a nationwide team of maritime researchers involved in Traditional Boats of Ireland, a co-operative project for the publication of a major study on traditional Irish boats. He has also written comprehensively on the West Cork sandboats for the Mizen Journal and other publications. He has lectured on both the lobsterboats and sandboats at the Glandore Classic Boat Summer School and at various historical-society meetings, and has contributed to radio programmes on the subject. He is a founding committee member of the Ilen River Cruising Club.
Published in hardback by Galley Head Press


ISBN: 0 9542159 0 7
160 pages · 52 photographs · 16 illustrations
19.75 euros · £15.00 sterling · $19.00 · + postage & packaging
To order, contact: islandbooks@eircom.net