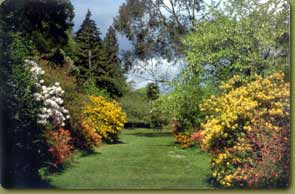 Photography: Maria Vlahos
Summer
As spring slides perceptibly into summer, the picture of the gardens
changes. Buds have become leaves and the Rhododendrons and
Azaleas are ablaze with color. (Azalea Walk pictured on left)

As the long hot days unwind, many palnts put on a show.
Around the dog days in August, the Eucryphias begin to flower.
(pictured below left)

An array of wildlife can be seen throughout the summer.
Below right you see a Heron taking a minute to enjoy the summer's
sun on the Japanese Bridge.