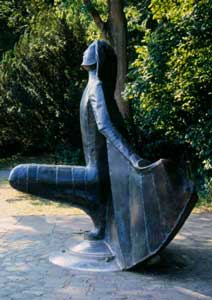 Niall O Neill is an established sculptor, living and working in Wicklow. He has built up a reputation and portfolio in the realm of public art
with large scale public sculpture sited around the country from Malahide, Co Dublin to Ballinaboy, Co Mayo.
He is a board member of the Sculptors' Society of Ireland (SSI), the professional body for sculptors in Ireland and
was chairman of the organisation from 1996 to 2002. He was also a Lecturer in Sculpture and Fine Art at
the Dun Laoghaire Institute for Art, Design and Technology until 2001.