Renault Kangoo Rear Axle Replacement
The left rear torsion bar broke while I was going to an event outside Letterkenny, Co. Donegal
A timber block was inserted to bring the ride height level for the return to Co. Kildare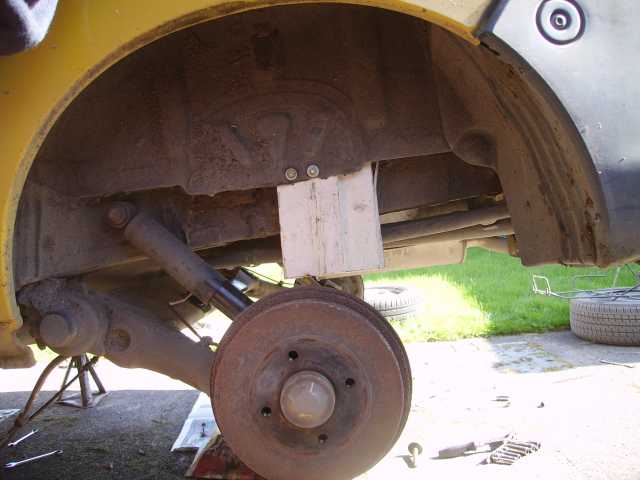 The Timber block
Now that was a bumpy journey, not too bad on major roads though
When I did some research, I was consistently told that changing the rear axle was a lot easier than replacing the torsion bar. They are very difficult to get out of their mountings and then you have to set up the ride height.
A 2004 axle was located at a car distmantlers about 10 miles (15km) away. More research was a 2004 axle suitable for a 1999 Kangoo. The answer came back yes.
When I was at the distmantlers I made sure brake lines and hand brake cable were properly disconnected rather than cut, This made the hand brake cable reassembly a lot easier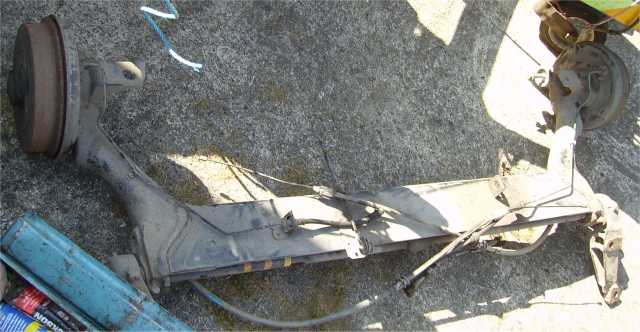 2004 Axle
A week after that on a Saturday I set about doing the job on my driveway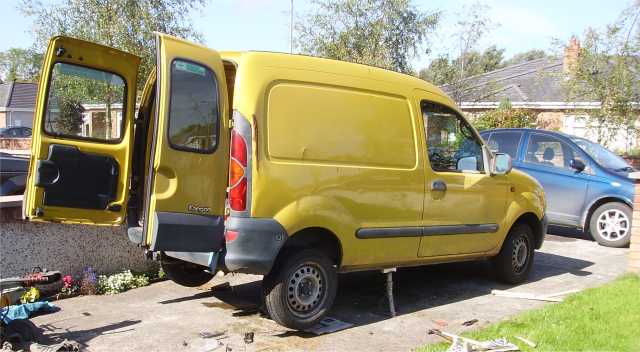 Work Area
The van was supported on 2 axle stands. Wheels were removed. The spare wheel and its carrier were also removed (one bolt and 2 hooks)
A heat shield was removed to allow access to the balance bar for the hand brake, this bar was slackened off to allow the 2 handbrake cables to be unhooked.
The brake lines were disconnected next. Left side where the flexible arrives at the axle. Right side where the flexible meets the line from the load adjuster.
The load adjuster next had its end nut removed to allow it to come off with the axle. In hindsight it would have been easier to unclip the other end off the axle.
These jobs were fairly light just the nuisance of working on my back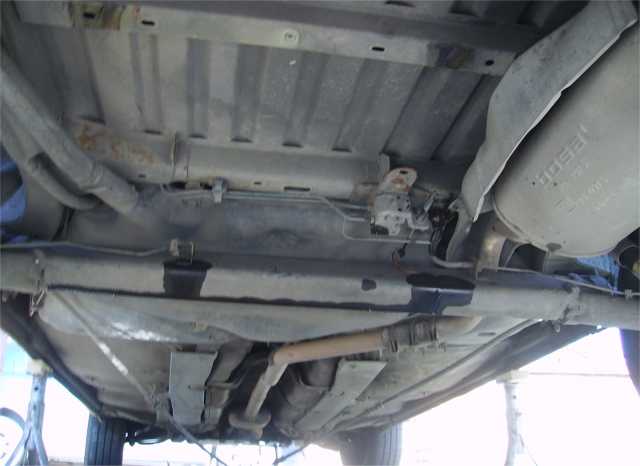 Before axle was removed
The heavy work
The centre of axle was now supported on a jack.
When I started removing the 4 nuts holding the axle
Panic 1
I needed a 21mm or a 13/16th inch deep socket to remove the nuts off the studs
The panic was ended when a neighbour reminded me that was a spark plug socket
Panic 2
The whole stud started turning when I started removing the nuts. Another neighbour said check inside the van to see if it is bolts rather than studs. He was right there were 4 plastic covers over the bolts on the floor of the van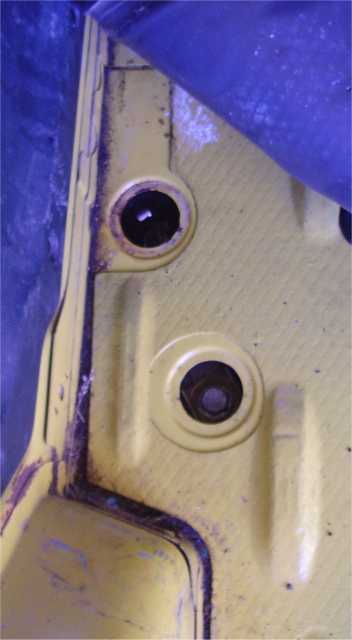 Holes allowing access to axle mounting bolts
My wife had the job of holding a socket inside the van as I unbolted below.
A little note here. The head of the bolt is not very deep so a good quality socket is needed.
The axle was jiggled off the bolts and lowered to the ground using the jack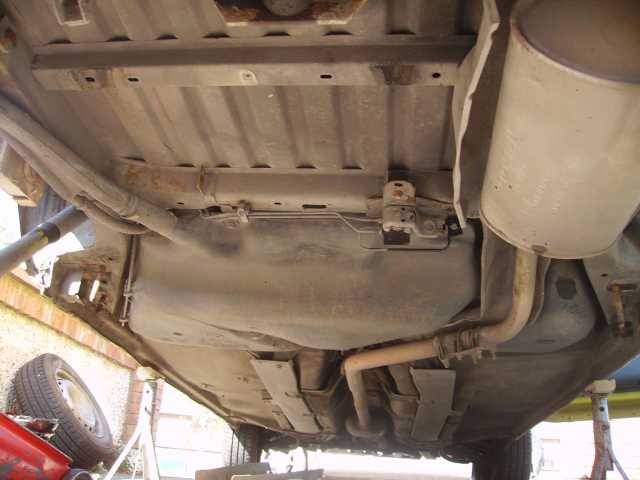 Axle Removed
Time for a cup of tea!
The reassembly
Basicly the reverse of above.
Tip from my wife put the four covers over the bolts in hot water to soften them and make them easier to slot back in floor
Followed by bleeding of the brakes and a test drive.

Thanks to
My wife for her spanner work and supplying me drinks through the day (as can be seen from the work area photo it was a gloriously sunny September day) Neighbour 1 for pointing out about the spark plug socket
Neighbour 2 for telling me to check inside the van for access points to the bolts
The end