GOLDENHEIGHTS GOLDEN RETRIEVERS
/ ABOUT US / OUR DOGS / PUPPIES/ CONTACT
/LINKS
SADLY MISSED
TYROL SHARISSA OF GOLDENHEIGHTS
"KERRI"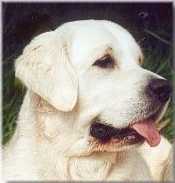 27/12/97 - 30/07/12
Gone from us, but leaving memories,
Death can never take away,
Memories that will always linger,
While upon this earth we stay.
KERRI THE QUEEN OF OUR HOUSEHOLD PASSED AWAY ON JULY 30TH 2012. KERRI WAS ALMOST 15 YEARS OLD & WAS SUCH A MASSIVE PERSONALITY THAT THE VOID SHE LEAVES IN OUR HOME IS HUGE - WHEN KERRI WAS MADE THE MOULD WAS DEFINITELY BROKEN - SHE WAS TRULY UNIQUE! WE ARE THANKFUL THAT LIKE HER HALF BROTHERS BEFORE HER SHE HAD ONLY A SHORT ILLNESS AND DIED A NATURAL DEATH AT HOME WITHOUT VETERINARY INTERVENTION. TO THE VERY END KERRI DID IT HER WAY, IN FACT THE MOST SUITABLE EPITAPH FOR KERRI IS "I DID IT MY WAY!"
KERRI LOVED THE SHOW RING & WAS ALWAYS WELL PLACED BUT LIKE EVERYTHING ELSE SHE DID IT HER WAY & SEEMED TO THINK THAT MOVING AROUND THE RING WAS A RACE & THE QUICKER SHE DID IT THE BETTER!!! SHE WAS A NATURAL MOTHER & WAS NEVER HAPPIER THAN WHEN SHE HAD PUPPIES TO TAKE CARE OF, ONCE SHE RETIRED FROM MATERNAL DUTIES HERSELF SHE BECAME THE HOUSEHOLD'S SELF APPOINTED MIDWIFE!
It broke our hearts to lose you, but you did not go alone.
A part of us went with you, the day God called you home.
Your face is not forgotten, we see it every day.
Itís the heartache of not having you, that never goes away.
RUN FREE OUR SPECIAL LADY UNTIL WE MEET AGAIN.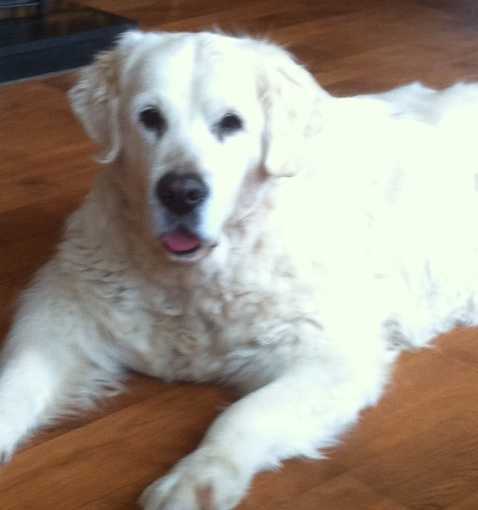 KERRI AT 14 YEARS OLD
CLICK HERE TO SEE KERRI'S PAGE