Facilities
Five Conference rooms provide seating for groups ranging from 10 to 120 people, while our main dining room caters for up to 80 with a smaller dining area seating 10 - 15.
Residentially, we can accommodate up to 63 people sharing in a combination of 33 en-suite single, twin bedded and double rooms situated in a purpose built extension to the original 19th century manor house. Several rooms as located on the ground floor and are intended for disabled guests.

The building also has a lift providing access to all floors and a number of kitchenettes where tea/coffee are
available throughout the day. However, a strict no-smoking policy is in operation throughout the house.
Grace Dieu provides a friendly and relaxed atmosphere ideal for your next seminar, conference, workshop, committee meeting, Chapter, Assembly or AGM. If you would like more details and costing contact the Secretary or use our on-line booking facility.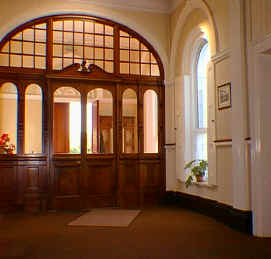 Main Entrance Hall
Other Amenities
Number of Bedrooms 26 twin bedded rooms
4 double rooms
3 single rooms.
: .
Home Contact Us On-Line Bookings