CHAIN & SPROCKETS REPLACEMENT
Chain:
525 O-ring chain with 112 links.
Types of DID chain

basic O-ring chain: DID 525 VX 112 (Raw steel)(OE equivalent)
X-ring chain: DID 525 VX 112 (Gold and black)
Heavy duty X-ring: DID 525 ZVM 112 (All Gold)
Sprockets:
The Mk II bros might take a differnt rear sprocket.
400cc take 16T on front and 44T on rear originally.
Some 650cc take 16T on front and 43T on rear originally.
Genuine Honda sprockets are best but expensive:
JT sprockets are good quality and cheap.

Codes for JT sprockets:
Front (15T): 296-15
Front (16T): 296-16
Rear (43T): 1311-43
Rear (44T): 1311-44
Rear (45T): 1311-45

Esjot sprockets:

Codes for esjot sprockets
Front (16T): 50-29005-16 (also available in 15)
Rear (44T): 50-29014-44 (also available in 43 and 45)

Afam sprockets

Codes for afam sprockets
Front: 20507-XX, where XX is the number of teeth which can be: 14,15 16 or 17, 17 wont fit without
modification.
Rear alloy (not steel): 11409-XX, where XX is the number of teeth which can be: 41, 43, 44 or 45.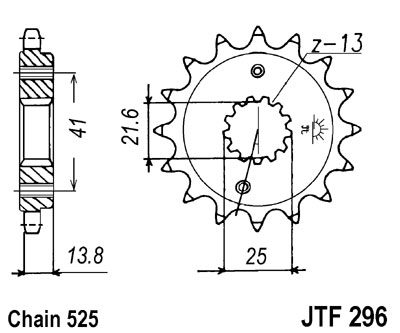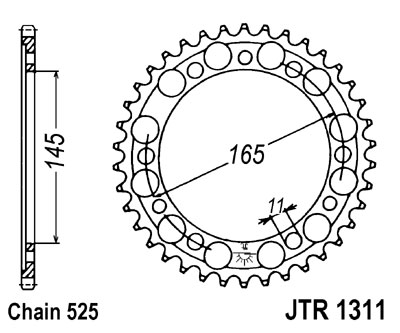 Notes on connecting links (AKA master links)
A connecting link is the link that joins the two ends of of
a chain together. Generally speaking there are two types of connecting links

(1)Clip type connecting link:
Sometimes there tensile strength is only 50%-60% of other links on the chain.
They wear faster than other links on the chain.
No special tools are required to fit these types of links.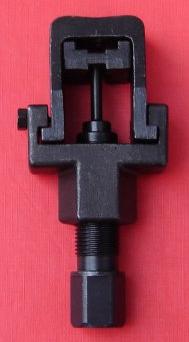 (2)Rivet connecting link:
Usually 90%-95% the tensile strength of other links on the chain.
Usually wear at same rate as other links on the chain.
A special type of rivetting tools is required to fit these types of links.
The best riveting tool is the DID KM500, however it is very expensive.
Fortunetly there are pattern copies of this tool available from wemoto.com,
ebay UK and louis.de. DID intended that their tool only be used on DID 5/8"
chains, i.e. 520, 525, 530(50) and 532.
DID recommend using the KM500 tool to rivet a ZJ connecting link in order
to get the best strength and durability from a chain. DID chains are supplied
with a ZJ link as standard.
Check before
Rear sprocket carrier,wheel and swing arm bearings and final drive dampers
aka cush drive rubbers.
Splines on gearbox output shaft.
Front sprocket retainer.
Rubber chain guide around the swing arm.
Rubber slider block (the bolts that hold the side stand in place also
hold this block in place)
Tools
Sockets and spanners.
Allen key and spanner for rear sprocket bolts.
Angle grinder or chain breaker.
Press fitter for link plate of connecting link (5/8" pitch).
Chain riveting tool suitable for 525 chain,
if you don't have a riveter you could use an inferior clip type link.
Chain tension adjusting tools.
Job.
Use angle grinder or chain breaker to remove old chain.
Replace front sprocket and tighten bolts to 12 Nm,
sprocket should be fitted so that writing faces outward.
Replace rear sprocket and tighten bolts to 43 Nm,
One side of the sprocket has a depression cut into it, this depression
should face inward, or if the sprocket has a rubber cushion the cushion
should be on the outside.
Adjust the chain tensioner to accommodate the new shorter chain.
Place some tape over the ends of the new chain to prevent dirt getting
into the exposed holes.
Fit the chain and bring the two ends together at the rear sprocket.
The connecting link should be supplied with special grease, liberally
coat the rubber seal, pins and bushing with the grease.
Fit the link and ensure there is one seal at the ends of each pin (4).
Double check everything is fitted properly and then press fit on the
link plate, be careful not to over press the link plates, use a vernier
caliper to measure the width of other links on the chain and then press fit
the link plate to match them, or if you want to be very careful you could
make a spacer and place it between the link plate to prevent over pressing
it, if you over press the link plate do not try to lift it off as you will
probably do more damage than good. If the link plate is severely over
pressed you'll just have to buy another connecting link.
Rivet the pin heads until they have visibly mushroomed.
If you are using a clip type link make sure that the open side of the
clip faces away from the direction of movement of the chain, so that a stone
doesn't knock it off.
Set chain tension (see chain maintenance), tighten bearing carrier
pinch bolt to 75 Nm, then ride the bike for a few miles and check chain
tension again.