History of the IAS
---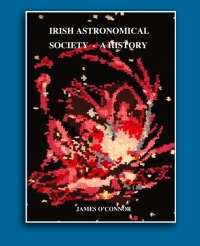 The Book Cover
New Book on the History of the Society
James O'Connor has written and published The Irish Astronomical Society: A History, 1937-2006. This coincides with our 70th anniversary. It is recommended for all those interested in the history of Irish Astronomy.

207 pages with illustrations and appendices. Priced at €14.

Please note (as it is privately published) it is not available from the Society.
Available at:
1. Hanna's Bookshop, Lower Rathmines Rd, Dublin 6 (near the junction with Castlewood Ave).
2. At IAS Meetings direct from the Author.
3. By post directly from the Author, at 90 Acorn Road, Dundrum, Dublin 16. See his site for details.

Read an extensive review by Barry Pickup.

---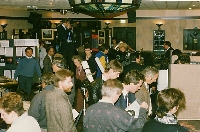 Our 50th Anniversary Exhibition on 14th Nov.1987

Notes on the History of the Society
The Society, which was founded in Dublin in October 1937 is the oldest astronomical society in Ireland. While it includes professional astronomers in its membership, it is essentially an amateur organisation and caters for beginners as well as those more advanced in the study of the science. In 1947, its constitution was changed to allow the establishment of autonomous Centres under the control of a Central Council. Under these arrangements Centres were established at Dublin, Belfast, Armagh, Cork, Derry, Galway, Clonmel and Dundalk. However, some of these had only brief lives. The Society published the quarterly Irish Astronomical Journal from 1949 to 1959. Dunsink and Armagh Observatories later took over publication of this Journal.

Difficulties arose in the late 1960's and early 1970's as a result of the outbreak of violence in Northern Ireland. By 1974, there were only two Centres (Dublin and Belfast) remaining. In that year, the Belfast Centre seceded and established a separate organisation - the Irish Astronomical Association. This left Dublin for a time as the sole Centre of the Society. In 1976, an organisation entitled the Irish Astronomical Science Group was established by professional people interested in astronomy and became part of the Society in the same year as an autonomous grouping. The Society reverted to a unified structure in 1987. In August 1978 it hosted the Fourth Congress of the International Union of Amateur Astronomers at Dublin. Society member Vincent Deasy was Honorary Treasurer of the Union for many years. In 1987 our 50th Anniversary Celebrations were held.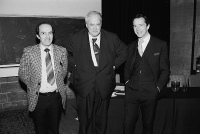 Society AGM at Birr on 25th June 1983 (left to right: late Vincent Collins, Patrick Moore and Lord Rosse)
photo courtesy of Barry Pickup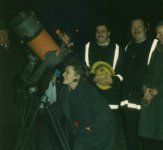 Dublin Sidewalk Astronomers about 1990.
photo courtesy of
John O'Neill
Membership of the Society has varied over the years – it is usually about 200.
Irish Federation of Astronomical Societies (IFAS): The Society is one of the founding societies of the Irish Federation of Astronomical Societies, established in late 1999. The aims of the Federation are wide-ranging but are generally in the area of providing mutual self help between the constituent societies.
Since the 1980s the IAS has been holding public star parties, they were dubbed the Dublin Sidewalk Astronomers about 1990.
---
Top | Home | About Us