THE MOON
Examples of Drawings, CCD Imaging and Astrophotography by members:

See also Lunar Eclipses.
---
Southern Highlands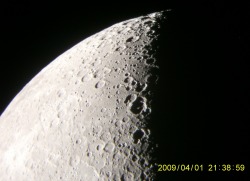 The Southern Highlands taken by Liam Smyth on 1st April 2009 using the afocal method. 23.5cm SCT.
---
Oceanus Procellarum
Deirdre Kelleghan used the 30cm South refractor at Dunsink Observatory, Co Dublin to make a drawing of western area of the Oceanus Procellarum showing the craters Galilei, Cardanus, Krafft, Eddington, Seleucus, Briggs and Briggs B. April 30th 2007 from 20:50 - 21:57 UT. South is up.

---
Kepler with Marius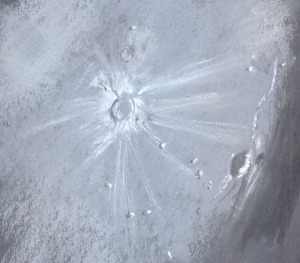 Drawing by Deirdre Kelleghan of the rayed crater Kepler was done the evening of 2nd November 2006. The crater Marius is towards the right. 20cm reflector.
---
The Moon with a webcam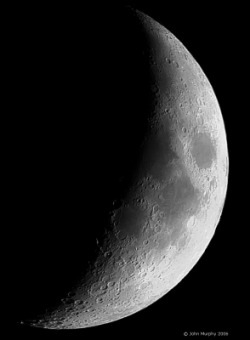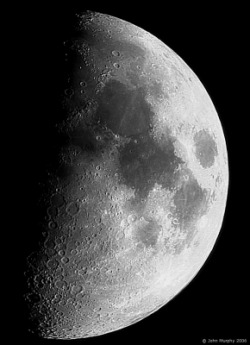 The crescent moon (left) and first quarter Moon (right) captured with a webcam on a 102mm refractor.
Both of these images used the SPC900NC webcam at prime focus. Telecope was Celestron Nexstar 102SLT. Up to 5 AVIs each consisting of 600+ frames stacked using Registax and then the end results were stitched using MS Digital Image Suite 10.
Crescent was done 1st June 2006 at 20:47 UT from Firhouse, Dublin. 1st Quarter was done 4th June 2006 about 20:00 UT from Wexford. Imaged by John Murphy.

---
Gassendi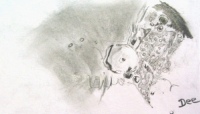 Drawing by Deirdre Kelleghan was done at 22:33UT on March 10th 2006 .
---
Schiller, Wargentin and Schickard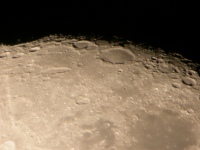 Taken by John O'Neill on 2005 Apr 21. 13cm refractor operating at f/19. (1/13 sec.,Digital Camera Afocal method)
---
Lunar Terminator Mosaic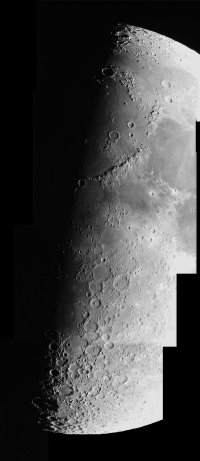 Prime focus images through a Vixen VC200L at f/6.4 (using focal reducer) using a Starlight Xpress MX516 CCD camera. Mosaic of five 0.01 sec exposures. 20 Feb. 2002. Taken by Gary Nugent.
The large large circular area at the top of the image is Mare Imbrium. To the right of it is Mare Serenitatis. Crater Plato is just on the terminator above Mare Imbrium.

---
Lunar Apennines and Copernicus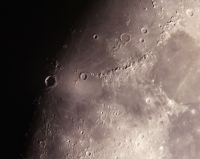 Taken by John O'Neill on 2001 Nov 24. 130mm refractor operating at f/50. (1/2 sec., Fujichrome 200)
---
Lunar Craters Copernicius & Clavius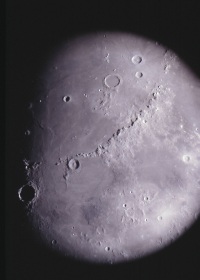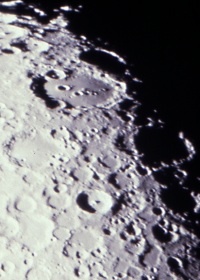 Using the 41cm (f/16) telescope at Armagh Planetarium (courtesy Dr Tom Mason). 1/4 sec on E100S slide film. Night reported to be one of the steadiest of the whole year. 2000 Mar 14. Taken by John McConnell and Pat Corvan
---
The Moon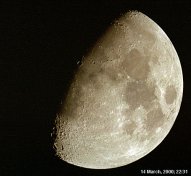 Taken by Gary Nugent with a Vixen VC200L 20cm on Agfa 200 print film, 1/125 sec. processed with a sharpening filters on Paint Shop Pro. Colour was not altered. 2000 Mar 14.
---
The Moon occults Regulus in Oct. 2007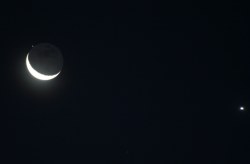 The Moon Occulted 1st magnitude star Regulus on the morning of Oct 7th 2007. Taken by John O'Neill shows the reappearance of the star from Banagher, Co Offaly. Telephoto zoom lens at 300mm. 0.5 sec exposure.
---
The Moon occults Saturn in Nov. 2001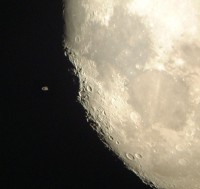 Saturn reappearing on the dark limb. Taken by Brian Doyle on 2001 Nov. 3 with a digital camera. Afocal method, auto exposure. 15cm reflector with a 22mm eyepiece.
---
Top | Home | Sky & Gallery