Marvellous performance by U-12As in Cup Final - 19 May 2002
Castleknock Celtic 2 (Paul Sheridan, Philip Germaine) Home Farm 0
It was obvious from the off that Celtic were fired up for this one and full marks to manager Eamonn O'Connor and coach Gerry Hunt for preparing them so well. The team's determination was evident from start to finish, and it was clear at the celebrations after how much it meant to them to win the Cup. The conditions weren't great with light rain falling and the temperature around 13 degrees.
An early chance fell after 10 minutes to my man of the match, David Dempsey,

but his effort just went wide. Celtic were very much on top with the wind at their backs. The breakthrough finally came after 37 minutes and it had Paul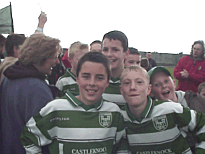 Sheridan's (Sherro) name all over it. He took a fine through ball from Philip Fizzy Carroll, and was prevented from scoring with a fine tackle from the Farm defender. The ensuing corner kick taken by Fizz, broke to Sherro who rifled into the far right hand corner. The spectators in the stand went wild.
The second half started in similar fashion with Celtic pressing forward and Fizz

went oh so close twice, one just wide as the Celtic faithful applauded what looked like a ball destined for the back of the net, very similar to MacManaman's European Cup semi final goal v. Barcelona. His second effort was brilliantly saved by the Farm keeper. Home Farm began to apply the pressure and were very close after 17 minutes when their effort was cleared off the

line by the ever reliable Celtic full back, Barry Breen. The whole defence had their sleeves rolled up as they defended wave after wave of attacks by the Farm, with James Ring at left full making tackle after tackle. Odran Fanning was his usual composed self, sweeping across the back throughout. Captain for the day, Cian McCaffrey, who has had a difficult season with injury, was his ever reliable self. Michael Daly was dominant in the middle of the park and went close with a header in the first half. David Hunt exerted his usual influence in the middle third. Despite their pressure, Home Farm were unable to breach the Celtic defence which had the reassuring and commanding presence of Robert Hoare
in goal, he didn't put a foot wrong all morning.
The insurance goal came after 20 minutes of the second half.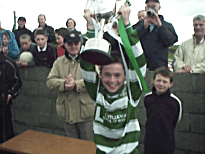 Daly picked up the ball in the middle, and sent a fine cross-field ball to the skilful Philip Germaine who raced into the Farm box and shot low with his left foot into the far corner of the net.
Darragh Daly came on at full back, Stephen Cooper moved to his berth wide on the right, and it was great to see Eoin O'Shea, who missed so much of the season with injury, take up his position up front.