Celtic scale the heights once more
Castleknock Celtic 2 (Philip Germaine, Paul Sheridan) : Ashbourne 1 (Donal McDermott)
You will travel many a mile before you see a more riveting encounter than this between Celtic, who took the Cup last Sunday v. Home Farm, and Ashbourne, who harboured serious intentions of pipping Celtic to the 12A North Dublin league title. Celtic have the points in the bag, while Ashbourne needed to win to take advantage of their games in hand

.
The game was played at a frantic pace throughout. Celtic had the majority of possession, and in truth, they should have been a couple of goals in front at the break. Philip Germaine and Stephen Cooper had numerous chances to put the home side into the lead, but heroic goalkeeping by my man of the match, Ashbourne's Liam Caffrey (photo across), kept the visitors on terms. One amazing stop came late in the half when Cooper placed what looked a perfect shot into the far corner, but Liam was down like a cat to make a superb stop.
The second half saw more of the same with Celtic continuing to press. But the menacing

threat from Ashbourne, which flashed from time to time, came into sharp focus after ten minutes. A through ball to the exceptionally skilful, Donal McDermott (photo), broke free in the box and he rifled home a perfect finish to the far right hand corner. The home faithful were stunned in disbelief.
This Celtic team were now being asked the questions. But they responded magnificently. Ironically it was a ball over the top, as Ashbourne supporters screamed 'offside' at the ref with some justification, that brought the home side back level. Philip Germaine, who had scored an amazing goal v. Artane Beaumont a couple of nights ago, ran on and rounded the keeper, and at last the visitors' defence was breached.
The final act came soon after. With some eight minutes remaining, a fine move by Ce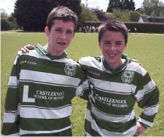 ltic ended with Paul Sheridan (in photo with the other scorer, Philip Germaine) about twelve yards out. He let fly with an unstoppable left foot shot, which has become his trademark, into the roof of the net. The home fans on the line went delirious. It was a truly fitting finish to a game which Celtic on balance probably deserved to win, but could so easily have lost to a battling Ashbourne side, who though competitive throughout, were like the home side true sportsmen, with not a single dirty tackle in the whole hour.
Team Photo below