Another Double for Andy Reynolds' U-9s
Castleknock Celtic 2 (Gareth Deasy, Patk Walters) St Kevins 1 (Alan White)
As your reporter left the Amateur League Complex on Saturday, the U-9As were heading to their retreat in Enfield to continue their celebrations with a barbeque. The team had richly deserved a party, having overcome
arch-rivals St Kevins in a pulsating final.

Celtic had started like a train and were 1-0 up after about five minutes. It was ace marksman Garret Deasy who put them in front. They maintained their advantage until the third quarter when St Kevins won a free kick just outside the box. It was well within range for Kevins' ace Alan White, and he struck the ball beautifully into the roof of the net to leave Conor Nealon in the Celtic goal with no chance. Soon after Conor was injured and had to be replaced in goal by utility man,

Emmet Roche, who filled in admirably.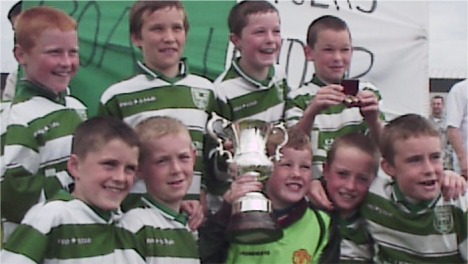 The final quarter was up and down stuff, and the match was eventually settled with a piece of neat interplay by Celtic midfield and led to Patrick Walters latching on to a through ball. He chipped beautifully over the big Kevins' keeper.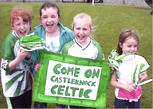 But this was a fine team performance. Outstanding were the Celtic central defenders, Gerry Troy and Daniel Germaine (brother of Philip who got the vital goals in the U-12s climax to their double winning season). When the final whistle went, the celebrations started, led by the cheer leaders, see across.
| | | |
| --- | --- | --- |
| | | |
| | | |