20/10/02 U-15 Molly Martin Cup
U15B's freeze out opposition
Castleknock Celtic 4 St Josephs East Wall 2
The under 15B's, section C, NDSL, played
St Josephs E/W, Section A, NDSL, in driving rain & freezing conditions in Porterstown on Sunday 20th October. Despite the bitter conditions, Celtic put on a magnificent first half display that saw them score 4 goals without reply.
The section A side were fighting a defensive battle from the tip off and it was not long before the ball was in the visitors net, courtesy of Mark O'Toole. Further goals from Daniel Ennis & Robbie Semple (2) meant that St Josephs were left with a mountain to climb. Indeed. Celtic could have been further ahead when a shot from Robbie struck the crossbar with the visiting keeper well beaten. Stephen Lynch also put the ball into the net with a great free kick but the referee judged one of the Celtic players to be offside.
The second half saw Josephs get more possession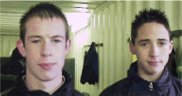 but Celtic keeper, Gary Creaner, was well in control of his area and pulled off some good saves. Celtics dominance was never really threatened until a long through ball picked out a Josephs forward who fired past the Celtic keeper to register first blood for the visitors. Both sides battled bravely in the biting conditions in a much better balanced second half with some lovely football on display. About 20 minutes into the half a scuffle erupted in the Celtic penalty area, which resulted in the Celtic keeper & a Josephs forward being red carded and a penalty being awarded to the visitors. Defender Colin Hayden stepped between the posts but could do nothing to stop a well-struck penalty bringing the score to 4 –2.
A quick re-shuffle of the Celtic formation covered the absent players position and the defence, under captain Vincent Corry, held firm. Celtic constantly probed the visitor's defence and kept their keeper busy until the final whistle saw Celtic deservedly progress to the next round.
Celtic Team:
Gary Creaner (keeper) Daniel Ennis, Colin Hayden, Vincent Corry (Capt.), Darren Keogh, Stephen Ring, Cian Kennedy, Stephen Lynch, Robert Semple, Mark O'Toole, Stephen Mulhair, Thuan Kuang Minh, Michael O'Donoghue, Mark McLoughlin, Mustafa Magdelin, Michael Jacobs.