1/12/2002
SFAI Cup 3rd Round
Ballymun Utd 1 Castleknock Celtic 3
Dour Victory Away to Ballymun
It was a windswept morning in Ballymun and conditions were very difficult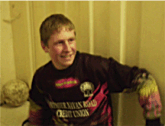 for playing football. With the wind behind them, Ballymun attacked hard from the start, and put the visitors under intense pressure for the first quarter hour. They would have had a comfortable lead except that Celtic's keeper, Dave O'Connor, was in sparkling form, including one splendid save as the ball was heading into the top corner. Celtic steadied and gradually asserted themselves.
Second-half
On the restart after half-time, Celtic took control, and were soon rewarded. A free kick was awarded on the right-hand side of the box. Up stepped left-full, Paul Burke.

He delivered the perfect free into the top left hand corner giving the home keeper no chance. He was just off target a couple of minutes later with another free.
The game was hectic and tackles were flying in. It boiled over after 15 minutes which ended up with Celtic's Fergal Cusack being given his marching orders after dispute with referee. This upset the visitors and they lost out after 18 minutes. A through ball was being collected by keeper O'Connor when he got a knee in the head causing him to spill the ball. Joe Russell-Bowes was on hand to capitalise. 1-1. It was up and down stuff at this stage.

The vital break-through came after 35 minutes. A ball out of defence by Ballymun was picked up by Lorcan McCarthy. He seized his opportunity, picked his spot and delivered the perfect strike from 25 yards to the far left hand corner. 2-1.
Within two minutes, Celtic were moving forward again, and with howls

of 'offside' from the home fans, Ian Denham moved into position and chipped the keeper with aplomb. 3-1.
This was a perfect return to football for Celtic who have had so little football over the past couple of months due to the bad weather.