9 February 2003 SFAI Cup 4th Round
Castleknock Celtic 3 (Johnny Quinn 1, Paddy Andrews 2) Dunboyne 1 (Steve Gilligan)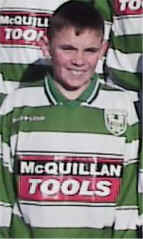 In a sun-drenched Porterstown, the 14As progressed to the 5th Round of the SFAI Cup with an impressive 3:1 victory over their old rivals Dunboyne. Castleknock got off to a flying start when Jonathan Quinn perfectly timed his run into the box to meet a ball floated in by left-full Gary Masterson, and managed to squeeze home as the Dunboyne keeper struggled to collect. Smarting from the early goal, Dunboyne found it tought to contain Castleknock, who controlled the opening 15 minutes with a display of crisp-passing and attacking football, with Paddy Andrews opening up the Dunboyne defence with his dribbling, and Thomas Nolan dragging his marker out of position. However in the 15th minute, a bit of over-elaboration in the Castleknock defence gifted Dunboyne's Stephen Gilligan with an opportunity and he made no mistake. 1-1.
The goal was just what Dunboyne needed, and for the remainder of the half, from Eamon Browne in defence, they matched home side throughout the pitch with Castleknock keeper Alan Murphy bringing off one great save. The sides were still level at half-time.
The Porterstown side upped the pace from the kick-off and showed a great hunger and willingness to work their socks off. Celtic were led by captain and mid-field dynamo Daragh Daly, who gave a non-stop "box to box" performance that tormented the hearts out of the

Dunboyne mid-fielders, whose possession he robbed time and time again. John Byrne and Danny Sweeney were not far behind. With such dominance in mid-field and with McAuley, Arkins, Moriarty and Masterson rock solid in defence, it was only a matter of time before Castleknock took the lead. Castleknock took the lead when Paddy Andrews pressurised the Dunboyne keeper, who was unlucky when he spilled a ground shot to allow Paddy to punish.
Dunboyne to their credit continued to battle and got an opportunity to get back on terms but John Moriarty who failed to deal with a high ball, made up great ground to get in a vital tackle in the box.
The final score came in the 33rd minute of the second half, when the ball deflected "painfully" off Daly's groin, and as he fell to his knees Paddy Andrews slotted to the bottom corner with the Dunboyne defence standing and waiting for the whistle.
Overall a gritty display from Castleknock who are well capable of going much further, if they maintain the commitment to training that they have displayed in recent weeks.