SFAI U-13 Troy Cup 5th Round
16 March 2003
Castleknock Celtic 2 Kilreen Celtic (Cork) 4
Castleknock succumb to powerful Kilreen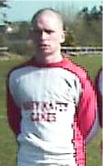 The visitors from Cork proved too strong for the Castleknock side in this All-Ireland 5th Round Cup fixture. Although Philip Carroll went close after 7 mins, it was Kilreen who had most of the play early. It was no surprise therefore when they got the break after 16 minutes. The big Cork striker, Donal Heaphy (photo across), was delighted when his cross deflected in off the unfortunate Odie Fanning, who had been marshalling his defence so well. Castleknock had gone close themselves with efforts from Philip Germaine and Michael Daly, but the Cork keeper, Wesley Tong, was in top form. Tong was unlucky after 24 mins when a free kick by Philip Carroll fell from the keeper's grasp to the inrushing and ever-improving James Ring, who shot home. After 29 mins, Heaphy was again very close to regaining the lead. Half-time 1-1.
Kilreen came out after the break like a train, and Dean Buckley was within a whisker of scoring, but Robert Hoare made an excellent stop. But Kilreen regained the lead after 10 mins of the second half. Micheal Doody, their big No.9 in midfield took full advantage of space to shoot and rifled home from 20 metres. 2-1. Castleknock were also getting chances, one particular opportunity fell to David Hunt, but his shot went over from 14 metres. This was followed by Michael Daly who brought out a great save by Kilreen's Tong. But it was Glenn Goggin who sent in a speculative shot from wide on the right which surprised the defence and went into the top corner of the net. Kilreen lead 3-1.
When the big man, Heaphy, hit a super strike from 20 metres, it seemed an unfair reflection of the play. Castleknock's Michael Daly ended the game with a fine individual goal, beating a couple of Kilreen defenders and striking home with the help of a deflection giving man-of-the-match, Wesley Tong, no chance.
The Dublin side on the day were not strong enough for the visiting Kilreen side, and must now concentrate on their league and cup challenges, where they have won the double for the past two seasons.