U-13A Brenfer League
23/3/03
Home Farm 4 Castleknock Celtic 0
"Sweet Revenge"
Home Farm were dumped out of the Cup a few weeks ago by Celtic. So this League win was sweet revenge for the Whitehall side. They looked very sharp from the off, while Celtic seemed to be suffering a severe bout of hangover after their SFAI defeat last week against Kilreen Celtic from Cork. The beautiful spring morning in Albert College was little consolation for the disappointed Celtic supporters.

Farm's centre forward, Steve Fitzpatrick looked threatening and went close after 9 minutes. Christy McDonnell had Celtic keeper, Robert Hoare, stretching to finger-tip a shot over the bar after 14 minutes. Shane Farrell brought Hoare into action again five minute later. Celtic had few opportunities, although Barry Kavanagh had the Farm keeper at full stretch as he saved with his outstretched foot. Jordan Nolan was threatening for Home Farm and Hoare did well to stop his deflected shot after 23 minutes. Half-time 0-0.
Robert Hoare was again in action after 2 minutes of the second half as he saved splendidly from Shane O'Neill. The breakthrough that had been threatening finally came when a free kick from Christy McDonnell was knocked out by Odran Fanning, but Michael Kelly picked it up on the penalty spot and shot home. 1-0.
After 6 minutes of the second half, Farm broke down the right, a smart cross to the left hand corner was picked up by Shane Farrell who beat two defenders, and then delivered the perfect shot into the Celtic net. 2-0.
Celtic's efforts to penetrate were being swiftly dealt with by the Farm defence, for whom Mark Lynch was very dominant.
After 20 minutes Steve Fitzpatrick proved too nimble for the Celtic defence on the right hand side, he flicked the ball cleverly before rifling home. 3-0.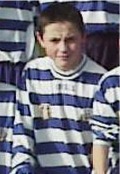 Then on 22 minutes, Christy McDonnell was again on the mark with a fine shot which gave Robert Hoare no chance.
This was a fine performance by Home Farm who must be looking good to take the league title from Celtic, who have won the double in the past two seasons. The only good thing about Celtic today was the new strip which was sponsored by Sports Psychologists AGERIRVINE.