Saturday,29th March,2003
U-7 Beige North Dublin League
Castleknock Celtic 3 Howth Celtic 0
Another beautiful sunny day in Porterstown saw the Under 7 play host to a young Howth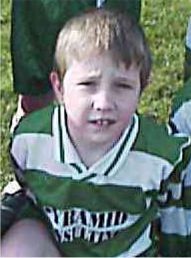 Celtic side. The home side started off strongly with Ross Ward unlucky not to score with one of his 4 chances. The first goal came from a free - kick awarded outside the box for a foul on Luke Henshaw. David summoned Eoin O'Dunnuchu to take it. He planted the ball into the top left-hand corner of the net.
The second goal came soon afterwards when Luke ran through a packed defence to score.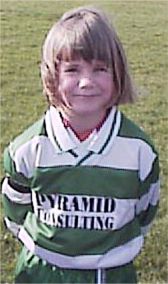 After half - time, Eve Farrelly picked the ball up in the middle of the park..She brought it over to the side - line and ran down the line. She then cut diagonally across into the box, beating several players in the process. She side-footed the ball past the keeper into the far corner. Her first goal……….man seen going delirious on the side- line.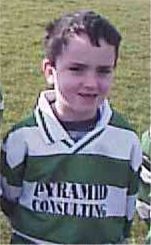 David named Eoin O'Dunnuchu as Man of the Match..
Team : Eve Farrelly, Luke Henshaw, Tom Fogarty, Hannagh Hanlon, Darragh McCaffrey, Aidan O'Flaherty, Ross Ward, Ross Kennedy, Eoin O'Dunnuchu, Anthony Healy.
Manager: David Fogarty.