Saturday, April 12, 2003
NDSL U-7 Beige
Castleknock Celtic 6 Dunboyne 0
Tom Fogarty's birthday was celebrated in style with a comprehensive win over Dunboyne. Hannagh Hanlon selected to take care of the nets again and was captain for the day and had another clean sheet.
The first quarter saw a lot of possession for the home side. It culminated in a fine move when fellow classmates, Eve Farrelly and Luke Henshaw, exchanged passes. Luke shielded the ball and beat a couple of players. He passed to Aidan O'Flaherty, who fed Ross Kennedy. Ross shot the ball into the left corner of the goal.
The second quarter began with Eve, Aidan, Eoin O'Donnuch˙ combining to give the ball to Luke, who seized the opportunity to put his side 2 up. Soon afterwards, a clearance by the keeper was intercepted by Aidan to add a third. Aidan was in the heart of the action again and exchanged passes with Eoin, with Aidan finishing it off to make it 4-nil.
Aidan and Eoin were at it again a minute later with Eoin pushing the ball past the keeper for number 5. Castleknock eased up in the next quarter. Darragh McCaffrey was commanding operations in defence. He cleared any danger away and made several forays up-field to set up attacks. Tom tackled well and also made several runs with the ball up the pitch.
The last goal was a beauty. Eoin took the corner to Luke. He passed to Ross Kennedy,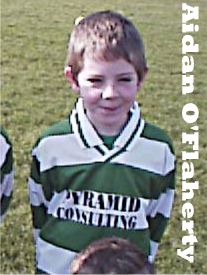 who was at the edge of the box. Ross hit it first time to the top corner of the net. For half the match, Aidan was in defence. He had a fine game there and is suited to either defence or attack. As a result of an outstanding display, David named Aidan, Man of the Match.
Team: Hannah Hanlon(Capt.), Darragh McCaffrey, Tom Fogarty, Eve Farrelly, Eoin O'Donnch˙, Ross Kennedy, Ross Ward, Anthony Healy, Luke Henshaw,Aidan O'Flaherty.
Manager: David Fogarty