COLIN FARRELL, ex-Castleknock Celtic Player, Actor

Colin Farrell joined Castleknock Celtic in the 1988-89 season. He played in the U-13A side that year. Colin's Dad Eamonn was the manager of the team, with Derek McGivern and Tony Jordan his assistants.
Eamonn is mostly remembered in football for his days spent with Shamrock Rovers, when he also won inter-league honours. He has fond memories of his cup-winners medal playing for Rovers in their big win over Shelbourne 4-1 in the 1962 FAI Cup Final, though Shels were very much fancied to take the Cup that day.
Colin's team found the right formula when they won the Cup in 1992. Colin acted as the utility player, playing in virtually any position, including keeper. He was a very gifted footballer, with both speed and deft skills in abundance. This was an exceptionally talented team, with beautiful ball players, especially Mick Terry, who is now teaching in Spain and still keeps in contact with the Castleknock Celtic club secretary. They won a number of trophies in that four year spell 1989-1992. They played a very attractive brand of football, even though their formation was a bit dated, the old W-W set-up, with half-backs and inside-forwards. It was based on team play, where you were as likely to see the full backs attacking as a winger. 'Support-play' was the key word. Not surprisingly, this team produced the club's first international in Barry Maguire, who played for Ireland at U-15 in 1992. That international team included former senior international, Gareth Farrelly, who played at that time with Home Farm.
Other former players of Castleknock Celtic, who gained international honours, are Alan Dixon, who was with Wolverhampton Wanderers, and Paul Keegan, who is currently with Leeds Utd and is very highly rated.
CASTLEKNOCK CELTIC 1990/91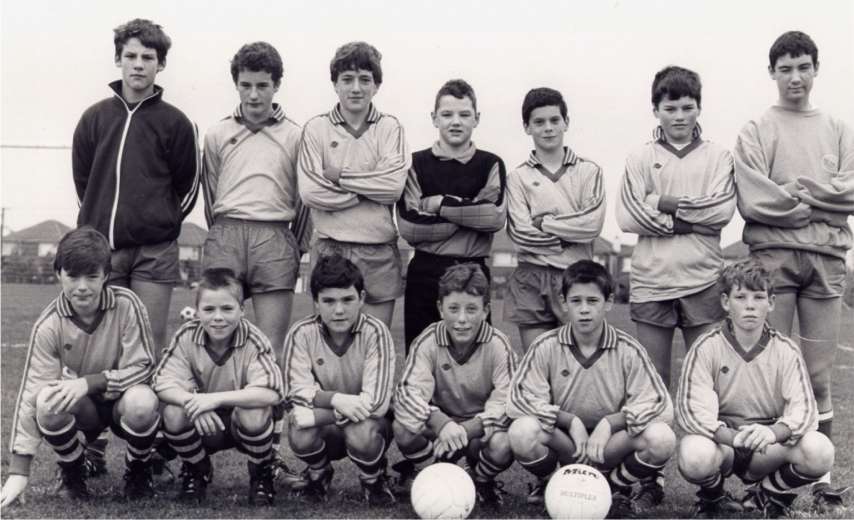 (Colin is bottom row, Second from Right)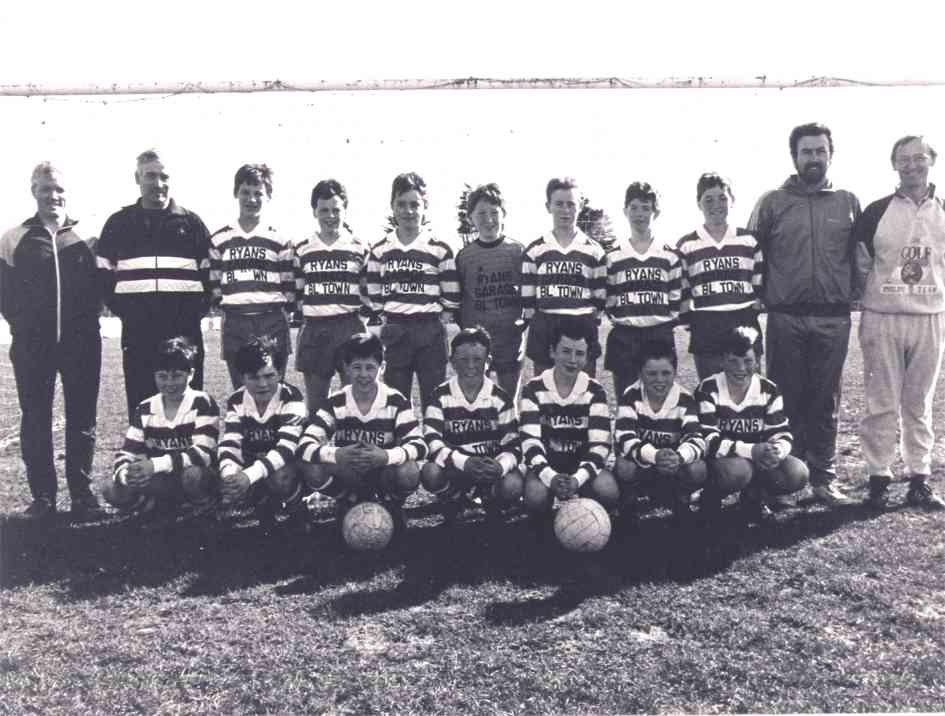 (Colin is bottom row, Third from Left
Eamonn is top row, Second from Left)
Colin Farrell when he played for Castleknock Celtic. He won the cup final in 1990, and the photo below shows him shortly before the final, which they won by 2-1, with goals from Ronan Forde and Kevin Bradley. Colin played left-half that day.
Colin is bottom row, 2nd from left. Picture is black/white and has not reproduced very well.