10/5/03
Nth Dublin League
U-13 Joe Kirby Cup
Castleknock Celtic 1 Dunboyne 0
Germaine Strike Seals Meath Side's Fate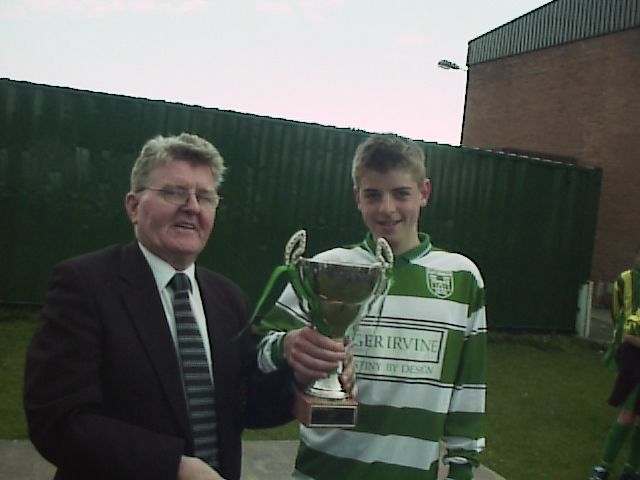 Eamonn O'Connor's U-13As have had an up and down season, flying high early on, a very rocky mid-season, but they showed their character in recent weeks, overcoming the best of opposition to get to this Cup Final. They proved just too good for Shelbourne in the semi-final. Today in the Amateur League headquarters on Oscar Traynor Road, in a bright cool afternoon, they were pitched against Dunboyne, who had won through to the final with a 3-0 win over their club's U-13B team in the semi-final.
Some were concerned that the absence of Celtic's influential wide man Philip Carroll would prove too much of a handicap. But Celtic were not to be denied yet another trophy, this year the Joe Kirby Cup. They have succeeded in winning silveware for the past three seasons. Philip, whose photo was in the Community Voice newspaper during the week soloing for St Brigids (see foot of page), is recovering from a leg injury suffered while playing in one of his many sporting pursuits.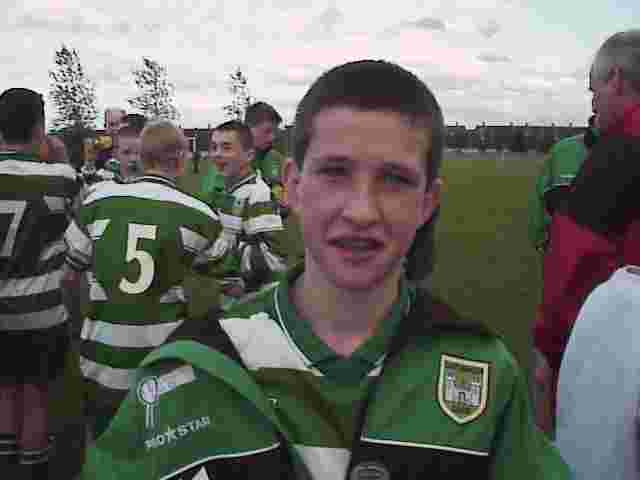 The start was sensational. The ball was tipped off by Celtic, and after it had broken to captain David Dempsey, it was threaded through to ace striker, Philip Germaine. His first effort came off the Dunboyne keeper, but Philip was alert enough to chase to the right, and slot it home under pressure. An excellent piece of finishing, showing great persistence.
Dunboyne did not roll over. They took the game to Celtic, and in truth had the majority of the first half possession, although had little in the way of clear-cut chances.
After 23 minutes, there was obvious concern on Celtic's right hand side. Daragh Ryan suffered an injured foot in one of his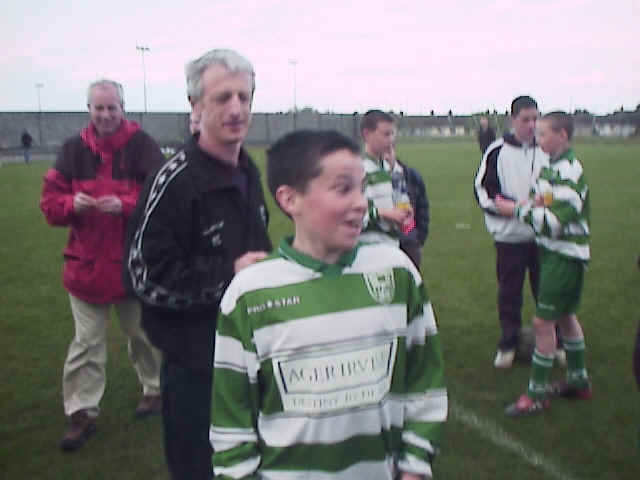 characteristic uncompromising tackles. Those who saw the match against Home Farm in Albert College earlier this year remembered that it was Daragh's injury and departure from the pitch which left Celtic badly exposed in defence that day to their cost. Today however, he was in no mood for leaving the field early, and he continued on despite his injured foot. This reporter had no hesitation nominating him Celtic's man-of-the-match. Dunboyne's big mid-fielder, William Browne, was always a threat, but Daragh gave him little room for manoeuvre. Despite Daragh's attentions, Will was probably Dunboyne's most impressive player on the day. Will went very close after 25 minutes with a fine header that was touched around the post by Celtic's impeccable keeper, Robert Hoare. Celtic responded soon after with a free kick by Michael Daly, whose shot came off the upright, with the Dunboyne keeper having no chance. Half-time 1-0.
Captain David Dempsey was in the action again at the start of the second half. His shot was pushed around by the Dunboyne keeper. After 11 minutes of the second half, Michael Dunne was just wide with his shot to the left of the Celtic goal. Odie Fanning was just off target with his effort after 19 minutes. Dunne's free kick for Dunboyne was blocked after 26 minutes, with Robert Hoare claiming possession of the loose ball. Dunboyne were pressing very hard at this stage for an equaliser, but despite their strenuous efforts, they failed to break down a resolute defence, for whom James Ring, Simon Darcy and Cian McCaffrey as ever stuck to their task, giving their opponents little opportunity. David Hunt was his familiar industrious self, showing deft touches in the middle, and making surging runs forward.
Man of the Match for Celtic

Darragh Ryan