Superb Performance by U-9As in
Muriel McCrory Cup 2003
Castleknock Celtic 3 Kilbarrack Utd 0


There was something very sweet about this victory. Celtic realised that they had a real job of work to do, and wow, did they deliver. They were out preparing in Castleknock early on Sunday morning, and it certainly paid dividends. They were all very excited when they arrived in the Oscar Traynor Complex for their cup final against arch-rivals, Kilbarrack Utd. The photographers were given their photocall and it was evident that this group of players were in great physical and mental condition for the tough encounter ahead.
They came out of the traps like a train. But in truth, this was an up and down battle, flowing from end to end. Incidents were happening at rapid speed, and it was hard to keep up with all that was going on. After

10 minutes, there were cries from the Celtic supporters for a goal,

as the Kilbarrack keeper collected as the ball came down off the crossbar. Owen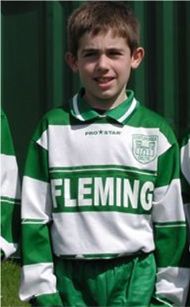 Harty went close with his effort. Mark Campbell, who was shaded for the man of the match award, was showing his skill and strength all over the park, and was just over with his effort.
The 3rd quarter was to prove decisive. Joe Crampton made a goal line save from a Kilbarrack free kick to keep the scores level. It was indeed a crucial stop. Soon after, Morgan McGarrity was on the mark for Celtic with his shot from the left hand side into the back of the net. 1-0 to Celtic.


Michael McKiernan was having a memorable game between the posts, and he kept the scores level when he pushed over the bar from the Kilbarrack No.4. Karl O'Mahony gave 100 per cent throughout.
Niall Conran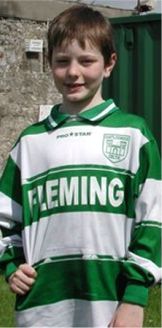 popped up with one of his specialities. He sent in a beautiful curler into the net. Then before the end of the 3rd quarter, Michael McKiernan was again in action clutching at full length to keep his goal intact.
Mark Kelly was having a fine game, which earned him man of the match. But it was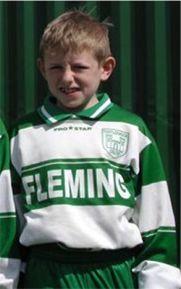 Olivia Smartt who had the last word. She seized on an opportunity and put the Celtic fans into ecstasy when her finish was too hot to handle and the ball nestled in the back of the net. Final score 3-0. What a great day for Celtic, and indeed a marvellous season, with their memorable appearances in Tolka Park, where they raised Castleknock Celtic to new heights. Well done lads and thanks for a great season.
DESERVED CUP WINNERS PHOTO GALLERY
| | |
| --- | --- |
| | |
| | |
| | |