U-16B NDSL League
Sun 14th Dec. 03
Drumcondra 2 Castleknock Celtic 3
Castleknock Celtic were away in Conturk Park for this inevitably very tight game. Celtic started off brightly, but a lack of communication in their defence was again evident from early on. This resulted in Drums getting what appeared to be quite soft goals against the run of play. Indeed, only alertness and agility by Celtic keeper, Gary Creaner, kept things from being worse than the two goal deficit at half time.
A rearrangement of the team at half time saw Vinny Corry move to centre half, and this strengthened the back four.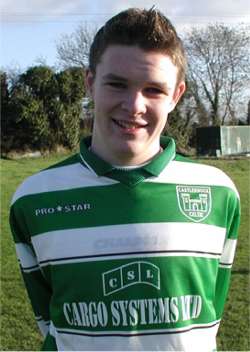 The second half saw Celtic become more dominant and it was not long before Robbie Semple pulled the first goal back. This was followed by goals from Jason Jewel and Mark McLoughlin, to see Celtic ome out deserved winners by 3-2. In the dying minutes, a sweetly struck free kick by captain Corry struck the bottom of the post with the keeper well beaten. Michael O'Donoghue later forced a brilliant save by Drums keeper which prevented Celtic from winning by a greater margin
Slow download of photo below.