NDSL U-11C League
22 Feb 2004
Match of the Day
U-11C gave a table topping performance in this home game against local rivals Navan Road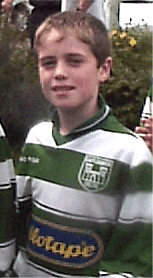 Utd, taking all 3 points with 3-0 win. Sean Hanlon was correct when he said that that this was indeed a comprehensive victory.
Paul McGrath scored his trademark goal after 15 minutes, with his shot from the edge of the box. Half-time 1-0.
Having been unlucky in the first half after a fabulous solo run, Conor Mooney again was on hand to set up Paul Conway, who rose high to head home. 2-0.
Navan Road fought hard to get back into it, but despite lots of pressure, they were unable to break

through, due in no small measure to Ian Martin, who put on a man-of-the-match performance. Celtic keeper Glen Doyle.
With 8 minutes remaining, midfield stalwart, Sean Hanlon hobbled off after some heavy tackling in the middle of the park. Then in the final minutes, it was Celtic who were on the mark, when Eoin Norton broke away, after a defence splitting pass from David Cummins.
This was serious statement of intent by Celtic's 11C team. They intend being in the shakeout at the end of the season.