Match of the Day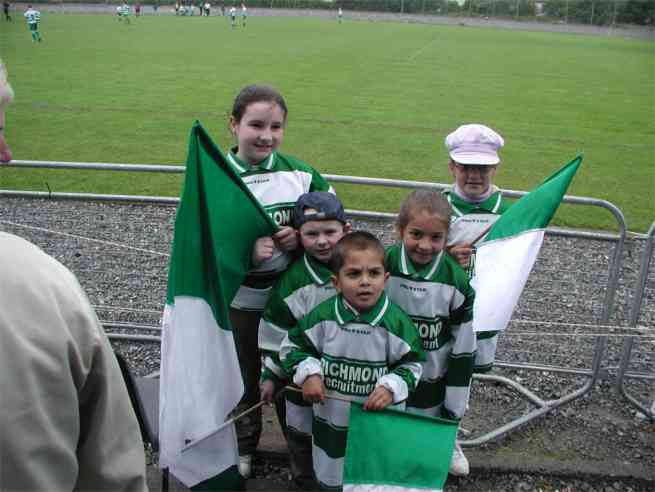 Celtic hold out for U-11s Tom Coughlan Cup Glory
Castleknock Celtic 2 Malahide Utd 1
I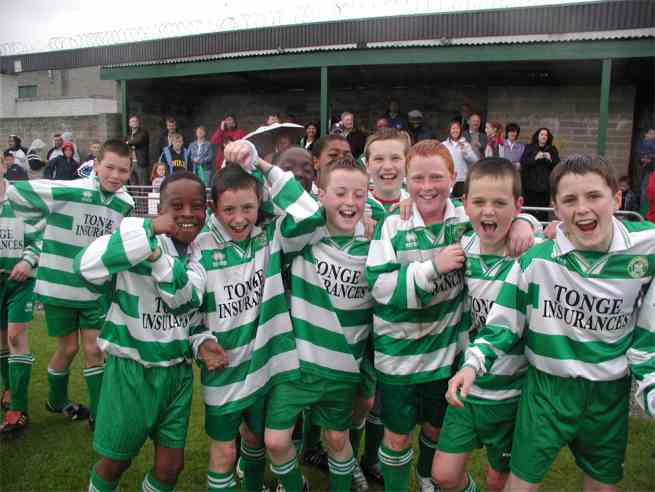 t was a very grey morning, with intermittent drizzly rain. But these two sides served up a real battle of the Titans. Malahide had the bulk of the play early on, Stephen Brennan posing a lot of threatdown the right hand side. Celtic were thankful that after a quarter hour, they were still on level terms.
But Celtic did have the odd foray out of their half, and on 12 minutes, Dan Reynolds sent Brian Moriarty through, but the Malahide keeper intercepted just in time. Then on 18 minutes, a moment of magic on the right by Dan Reynolds, changed the game. He jinked through a couple of tackles, and sent in a smashing shot against the crossbar, but as it came out to the left hand side, Emmet Roche controlled the ball and unleashed one of his specials with his left foot. It was an amazing shot into the top right hand corner which gave Conor Heffernan no chance in the Malahide goal. 1-0.
On 21 minutes, it was Dan Reynolds again who took control. He sent Brian Moriarty through, and this time he took it by the defender, and shot low under the keeper's body.
There was a scare in the 26th minute for Celtic when Mark Barry went close for Malahide. Half-time 2-0.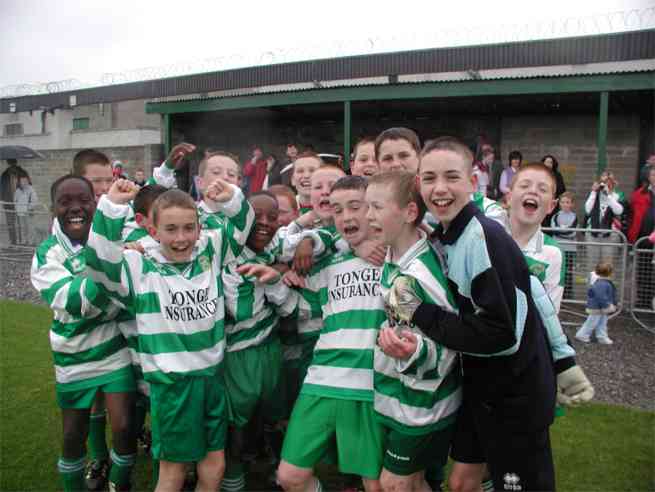 Early in the second half, James O'Mahony went close for Celtic, while at the other end, David Lynch made a superb stop to keep it 2-0.
Malahide never gave up the chase, and on 22 minutes, they got their reward when Stephen Brennan struck his shot sweetly to the back of the net. It set up a nervous last 20 minutes for Celtic. Conor Carberry was very threatening for Malahide, while at the back his team-mate Stephen Byrne continued to impress.
Celtic had their own impressive performers. Thomas the Tank was naturally solid at right full. Daniel Germaine and Gerry Troy were commanding at the back, while Emmet Roche was an inspiration. In the middle of the park, Gavin Harte, Dammie Ajike, and Daniel Reynolds were always trying to create the winning opportunities. Gareth Deasy was penetrating on the right, whipping in the killer ball for his striking partners. Tundie Hassan was ever a threat when he came on.
On balance, the result was probably just about right, with the superior striking power proving the difference in the end.
| | |
| --- | --- |
| | |
| | |
| | |