U-11As Nth Dublin League
Sun 30th May 2004
Almost there for the Terrific Treble
Castleknock Celtic 4 Ratoath Harps 1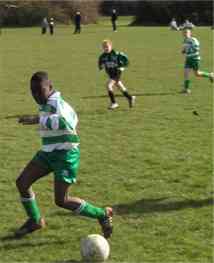 Celtic U-11As looked decidedly nervous in this clash with great rivals, Ratoath Harps. The first half was nevertheless shared, although Celtic are still thanking their goalkeeper, David Lynch, who was brilliant, taking off two superlative saves to ensure parity at half-time. It was a penalty, after Brian Moriarty was brought down, that was confidently dispatched by Gavin Harte, which kept Celtic in touch.
As is his wont, manager Andy Reynolds characteristically rung the changes at half-time. Along with the magic words at the break, Celtic came out revitalised. They took the lead from a Simon Adewale cross to Tundie Hassan. 2-1 to Celtic.
As Ratoath's energy started to sag, up stepped Daniel Reynolds, who struck twice to put the home supporters at ease.
Celtic now look forward to their final league game against Baldoyle Utd, and if they win that, they will take the league title by at least 2 points from their north Dublin rivals, Malahide. Whatever happens, we are very proud of their achievements, including the Cup, which they are celebrating below with manager Andy Reynolds and coach Pat Roche.