Under 11s League-Cup Final
Castleknock Celtic 4 Ashbourne Utd 3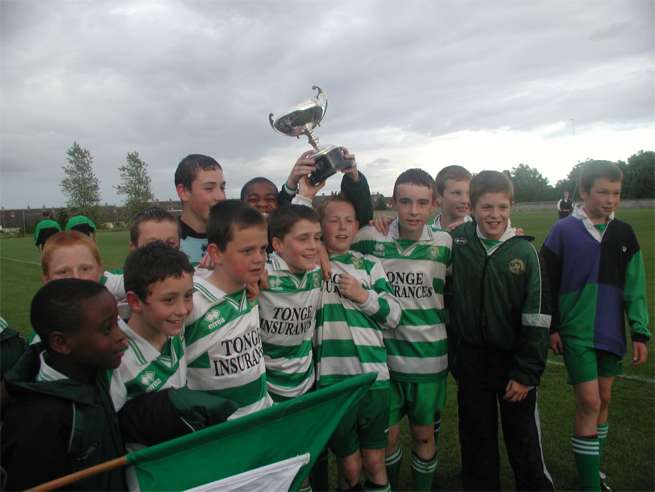 Andy Reynolds and Pat Roche were rightly proud of their Celtic team, whose achievements even before this league cup final were remarkable. They had already won the league and cup double. This team wanted the treble, not for the first time since they came together four years ago. They are top dogs in the A-division, and they must have been very confident going into this game against Ashbourne from the B-division. But they were in for one hell of a fright.
Celtic started well against a stiff breeze, on a rather cool evening in late June. These teams were going to have to serve up a treat if they were to keep the interest of their supporters, given that the Portugal-England European Quarter Final was on at the same time. They did not disappoint.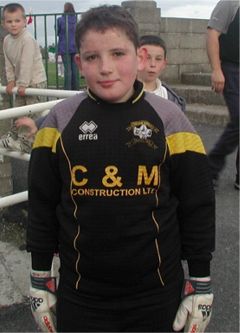 Gareth Deasy showed his pace and skill early on, breaking fast on the right, and whipping in a long cross to Tundie Hassan, who headed just over the bar. On ten minutes, Ashbourne's no. 10, always a threat, put his free kick over the bar following a hand ball on the edge of the box. 25 minutes into the game, a misdirected passback let Wayne Rooney look-a-like, Dylan Byrne, in and he coolly took his chance as he shot home past the diving David Lynch. A minute later, it was Daniel Reynolds' turn to create, and he put Gareth Deasy through, but his effort was foiled by MAN-OF-THE-MATCH, Tadhg Doyle, in the Ashbourne goal. At the other end, David Lynch made a superb stop to keep the deficit at 0-1 at half-time.
Celtic were not playing the brand of football which they are noted for. But they were given a lifeline early in the second half. The referee awarded them a penalty, which he alone knew anything about, as the onlookers gazed on in awe. We hoped it would not be the difference at the end of the day. Gavin Harte stood up to the mark, and unlike the 'megastar', Mr Becks, he dispatched his penalty with aplomb. 1-1.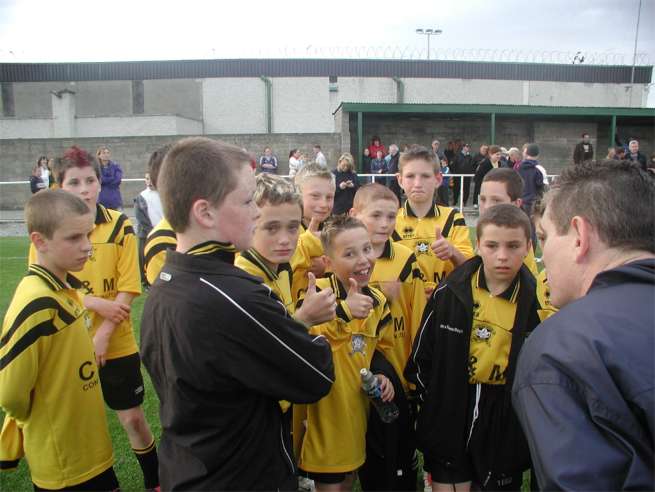 A couple of minutes later, Daniel Reynolds forced Tadhg Doyle to another brilliant save. But he was given no chance six minutes into the second half when that man Tundie yet again struck, taking his chance beautifully. But Ashbourne bounced back, when John Glynn slotted home after he broke through a Celtic defence which failed to get in the necessary tackles. 2-2.
Dan Reynolds was taken down nine minutes into half, but his free kick was just wide. Tadhg Doyle was on hand again soon after to brilliantly deny Celtic from another free kick. Gavin Harte was then just over with his header from Gerry Troy's corner kick.
Quarter of an hour into the second half, Dylan Byrne seized his opportunity, and Ashbourne were again in front, which was a surprise as they were playing into the stiff breeze. But make no mistake, their lead was well deserved. We thought Celtic were going to suffer another setback, when Tundie bravely challenged for the ball. The Ashbourne clearance hit him straight in the face, and it looked bad for him. But with a rub of the magic sponge, he was up and at it again. He brought out another excellent save from Tadhg Doyle with a superb volley from nine metres.
Only six minutes remaining, and Celtic pressing hard. A moment of brilliance from Gavin Harte, as he weaved his way through a number of tackles, and gave Tadhg no chance. 3-3.
The referee seemed to blow up early. So we were now in extra time. Celtic asserted themselves at this stage, and were now on top. They were rewarded with two goals. The first came from Simon Adewale, who tricked his way past a couple of defenders, before shooting home. Then close to the end of extra time, James O'Mahony got on the end of another Deasy cross to make it 4-2 at the finish.
What a game, and full credit to both sides for a rivetting match. Celtic were obviously upset by the tenacity of a very plucky Ashbourne side, who just would not accept being second best, and their route-1 policy paid dividends for a long spell. Alas, in the end, it was to be a very proud moment for captain Daniel Reynolds, who lifted another Cup and completed the mighty treble.