AUL Elastoplast Shield
Saturday, April 16th, 2005
Castleknock Celtic

2

Dominicks Celtic 0
This was a well-prepared Castleknock Div2A side, and full credit to Phil O'Sullivan and Steve Lawlor. They were always in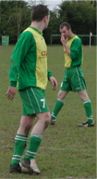 control after Marto Fleming hit a volley after 10 minutes that was held by the keeper. Marto went one better six minutes later. Deco Cunningham fought for the ball and outwitted the Dominicks defence on the edge of the box and delivered a precision pass for the Fleming kid to rifle home from close in. 1-0.
Richie Flanagan was battling hard at left-full, and was heavily winded for his efforts on 17 minutes.
On 22 minutes, Eoin Battigan rose highest, but his header from the Billy Dunne free kick was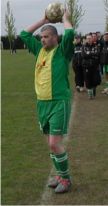 just over. Half-time 1-0.
The second half was much livelier. There was always a danger to Castleknock when the margin was a single goal. Marto Fleming shot wide after 52 minutes when one-on-one with the keeper. 15 minutes into the second half and it was Al O'Grady who was just wide after Richie Flanagan and Marto Fleming had exchanged passes. 10 minutes later, Richie Flanagan, now fully revived after his 1st half injury, was just over with his free kick, after Deco Cunningham had come down like a sack of spuds close to the 18 yard line. The threat from Dominicks was emphasised on 31 minutes of the 2nd half when Mark Hayden for Dominicks was just wide with his diving header, with Charlo Heneghan diving to his right.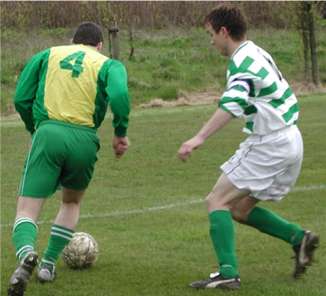 The crucial point came on 40 minutes into the second half. Deco Cunningham and Alan O'Grady were involved with an interchange, which led to Alan setting up Marto for his second.
Then with minutes remaining, Deco Cunningham was most unlucky when he spotted the keeper off his line. Deco chipped beautifully, but the keeper recovered to tip the ball onto the crossbar.
It would be hard to pick a man of the match, as every man-Jack played his part. Even Lorna and her cheer leader friends were on their game. But one would probably have to specially mention Mark Stevens who was tireless marshalling the troops in the middle of the park.