'Knock and Farm Put on a Goal Feast
Sat 10th Sept 05
U-10A NDSL League
Castleknock Celtic 3 Home Farm 3
As opening acts go, they don't come much better than this.
From the kick-off to the final whistle, this was a 10A party to remember.
The wonderful entertainment certainly brightened up the grey damp Porterstown Saturdy monring.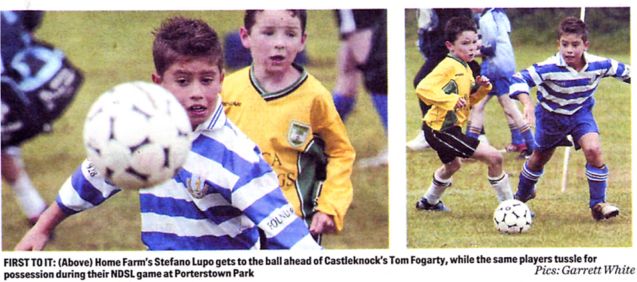 Thera was so much to admire. It included the delightful skill of Gavin Boyne and his hard working Celtic team mates Tom Fogarty and Patrick Rocca.
Home Farm had players that also sampled every blade of grass, with the likes of Tyler Fitzgerald, Liam Watson and Captain Fantasitc, Sam Vardon, really impressing.
Yet each and every lad played his heart out, and both managers were extremely proud of the efforts on show.
"It was a fabulous display, considering it was our first match of the campaign. Home Farm are a very good side, and I was thrilled with the way we battled back from 2-1 down. We could have edged it in the end, but then we could also have lost it", stated Celtic's manager DAve Fogarty.
The opening half was laced with adventure, but both defences had brought the bricks and cement.
The score board showed 1-1 at half time, with Boyne being on target for the hosts, and Watson on the mark for the visitors.
The gifted John Garrahan then put the Whitehall Wizards ahead, only for the brilliant Philip Fitzpatrick to produce the equaliser.
Ryan Moore Kearney then cracked in a beauty for the Hoops before Darragh O'Hanlon ensured that it was smiles all round when the curtain came down.
If the weekends to come are going to live up to the quality of this star spangled spectacular, then the year is going to be one, long picnic.