NDSL 12B
Sun 25th Sept 05
Castleknock Celtic 3 Ballymun Utd 4
Jamie Reid Hat-trick is not enough for Celtic
Ballymun Utd visited Porterstown for this 12B league game. They raced into a 2-0 lead with goals from Jake Delaney, with a bullet header, and the first of 2 from Craig O'Neill, with a fine chip from the edge of the box.. Celtic struck back before half-time when Jamie Reid got the first of his hat-trick when he ran on to a through ball.
After the break, it was the turn of Eoin Haughton to become provider and he sent Jamie through who rattled the back of the net. 2-2. Fionn Rogers set up Jamie for his hat-trick with 10 minutes remaining. 3-2 and Celtic looked good for a winning start to their league campaign.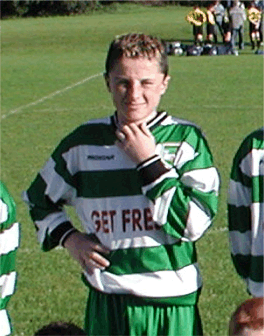 But Ballymun were not going to lie down without a fight. They were helped by a couple of pieces of good fortune. The score was 3-2 to Celtic. Jamie again broke free when Ryan Flood threaded a pass through to him. He was about to pull the trigger when the whistle sounded. He stopped and looked at the ref, but alas, the whistle had been blown on the adjacent pitch. The chance was gone. The ball was cleared up-field. The ball broke to Craig O'Neill who shot under the body of Celtic's keeper. So, instead of 4-2, it was 3-3. Then Jamie Reid for the umpteenth time was again racing into the Ballymun half with a defender at his side. Jamie seemed to be tackled, but the ref for not the first time made a strange decision and awarded a free to the visitors. They sent the ball up to Glen Kavanagh, who shot home from 25 metres, a fine strike. Celtic were indeed dumbfounded to have lost a game that they had every reason to think that they should have won. But full credit to Ballymun who took their chances, exploiting the opportunities that fell to them.