"Highway Robbery in Raheny
"
Grange Woodbine

2

Castleknock Celtic

2
( Newman,E., Farrell,K. )
NDSL Under 10C Saturday,8th October 2005
It was a beautiful sunny morning over in Raheny for the meeting of these 2 sides who have made a good impression in their league. Unfortunately, the game was marred by some baffling decisions against Celtic by the "Man in Black". Castleknock were always on top in this encounter. After 5 minutes, Jack Kennedy combined with Keith Farrell who hit a defence splitting pass to Eoin Newman at the left side of the goal and Eoin in turn hammered the ball with a sweet left foot into the far corner of the net. 1-0.
Castleknock were well in control at this stage and after 15 minutes Keith doubled the score. Jack was doing great work all over the pitch and he won the ball in midfield. He beat a couple of players and found Keith who smacked it into the net. 2-0.
After the restart, Grange turned on the heat and started to press hard for an opener. Despite his size Luke Henshaw, like Alan Johnson in the first half, was rock solid in defence. Any breeches with competently dealt by 'Celtic keeper Kevin McGovern ….He pulled off several top class saves in the match…..as reliable as Shay Given. An attack by Grange ended up in a harsh penalty decision and was finished well. 2-1.
Castleknock responded with waves of attacks. A perfectly well taken goal by Keith was disallowed by the ref………"he should have gone to Specsavers"………..no justice for this hard working team. However, the worst was yet to come……….With seconds to go in the match, a penalty was awarded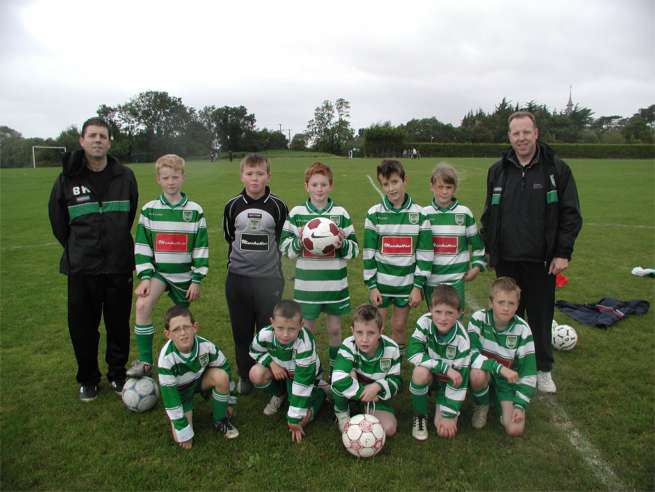 against Castleknock, even though the tackle was 2 yards outside the box…………a fact confirmed by the Grange Woodbine coach. 2-2..Then, the final whistle blew. I can tell you nobody was rushing over to shake the referee's hand. It was grossly unfair but as Brian Kennedy said to the team at the post-match press conference "You've got to leave these things and let them go and move on to the next task at hand…." Certainly the sun wasn't shining on us today, we deserved more out of this game.
Team : Kevin McGovern, Eve Farrelly, Ronan Mc Cabe, Keith Farrell(C), Jack Kennedy, Senan Warnock, Ian Watkins, Alan Johnson , Eoin Newman , Luke Henshaw .
Manager :Brian Kennedy
Brian Farrell
Sponsor : Manhattan