Sun. 11th December 2005
DDSL 18Premier Div.
Leixlip Utd 1 Castleknock Celtic 4
After draws in their two most recent league matches, which they might have won, Celtic finally hit the target. They had Lorcan McCarthy up front, and his freshness after his absence from the team added a new dimension to the Celtic attack. They also welcomed back Dave O'Connor between the sticks.
Celtic were soon into their stride and it was Keith English who created space, and delivered a perfect pass for Lorcan to shoot home. It was Keith again who shone for the second. He passed 3 Leixlip players, and when he seemed to have the ball caught in his feet, he let fly with an unstoppable shot to the far corner of the net. 2-0 Half-time.
Leixlip did come out with intent for the second half, and after 10 mins had reduced the arrears t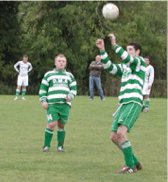 o 2-1. But this only served to revitalise the visitors. It was led by Paul Burke, who fed Lorcan McCarthy down the wing. He squared to Frank Kiernan, who made no mistake. 3-1 to Celtic.
The final nail in the home side's coffin came when Paul Burke was again the instigator. His corner to the back post was nodded back down by John Byrne, and it was rifled home by Brendan Lee.
This fantastic win is all the more remarkable as Celtic played most of the second half without their influential mid-fielder, Ciaran Carr, who had been sidelined for an over-robust tackle.
With 13 games left, the league title is well within the scope of this Celtic team who are blending together in fine style. Coach, Vernon McAllorum, was delighted with the performance, and is extremely optimistic for the rest of the season. Vernon recently obtained his UEFA coaching licence, which he is rightly chuffed about. The club are delighted with his success and heartiest congratulations are in order.