22nd Jan 2006

NDSL Under-12B

Kevin Moran Cup 2nd Round

Castleknock Celtic

3

Rush Athletic 1

"

Famous Victory for Under-12s"

Due to a series of injuries and late withdrawals, Castleknock Celtic's U12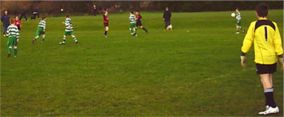 B were only able to field a 10-man team against Rush Athletic in the second round of the Kevin Moran Cup in Porterstown on Sunday. Not surprisingly, the under-strength Castleknock team took time to find its rhythm and several attacking moves were repelled by a resilient Rush defence. Eventually a superb pass by Fionn Rogers split the Rush defence and the prolific Jamie Reid ran onto the ball to score Castleknock's opening goal. Rush responded immediately and from a free kick on the edge of the penalty area, scored the equaliser just before the break.
In the second half, Castleknock began to pass the ball better and after some good inter-play down the middle of the park, Eoghan Haughton scored Castleknock's second goal. With the advantage of 1 goal lead, the Castleknock team mounted a series of attacks on the Rush goal. Eventually a well-judged cross into the box by Ryan Flood was knocked into the Rush net by Kevin Hartnett for Celtic's third goal. Castleknock stood firm despite some late pressure by the visitors to book their place in the next round of the cup.